04 July 2018
The Solar Voyager on the beach
Burning sand, lukewarm seawater and people in skimpy swimsuits; a complete different atmosphere than we're preparing for at Clean2Antarctica. On a tropical summer day on the wide beach of IJmuiden people were startled by a strange vehicle: the Solar Voyag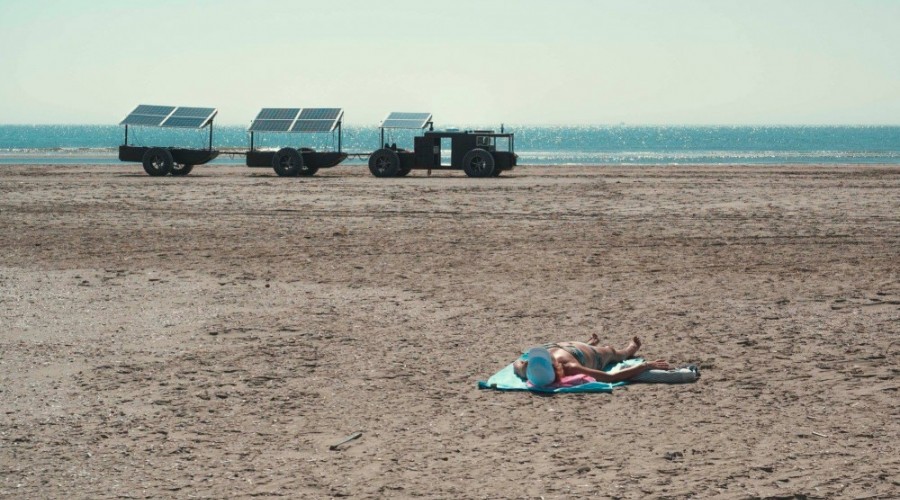 Silently, the Solar Voyager surprised tanned people. Playing children in the water pointed fingers and shouted: ' Look, a kind of tractor!' Many people came to see and ask questions, which Edwin and Liesbeth answered with pleasure. The news even reached the local newspaper.
Long distance
Crazy enough, the beach offers great conditions to test the vehicle for the voyage on Antarctica. The coarse sand is comparable to the ground surface there and offers enough space – even on a beautiful summer day- to drive. This time, Edwin and Liesbeth could also drive a long distance, about 12 kilometers to Zandvoort and back again. With the Solar Voyager, this is about four hours away.
Apart from distance, the stability and mobility of the vehicle was also tested on the edge of the dunes. A good exercise for the icewaves – sastrugi's – on Antarctica.
Coffee making
The Solar Voyager is soon more than a vehicle, for Edwin and Liesbeth it will be their home for five weeks. Incredibly important that you can make good coffee at -30°C. With the tropical sun at Zandvoort the water in the kettle was at the right temperature in no time. You can burn your fingers! Melting snow won't be a problem.
The testing continues
Before the Solar Voyager will be packed, a number of beach tests will be done. On the 18th and 25th of July the vehicle will be on the beach at IJmuiden. You can also see the Solar Voyager! We will keep you informed via Facebook! Please follow....
Support Zero Waste!
With your help we can inspire and activate people and companies to see plastic not as waste, but as valuable resource.