21 millennials aboard Tallship Morgenster help a motivated company to become more sustainable. Sail along with this logbook.
Day 26 – Quest for change leg 1 recap

18/09/2018
28º27.5'N  / 16º14.5 'W
And now we are in Tenerife after a few weeks at sea ..
Video gemaakt door Claire.
Day 25 – Our last night "adventures"


 
17/09/2018
28º41.5'N  / 15º40.2 'W
01:00 Sitting at the coffeeshop after steering and hoisting up the royal. I just asked Hayley (bosun) about what we actually did and learned (after almost 4 weeks on board) that hoisting the sails meant setting them, not taking them away… hahaha oops! We just realized (or well, our expectations were met) that we have a lot work to do tonight for the case. And Hayley opened the candy box so now we have chopa chups…
Marlous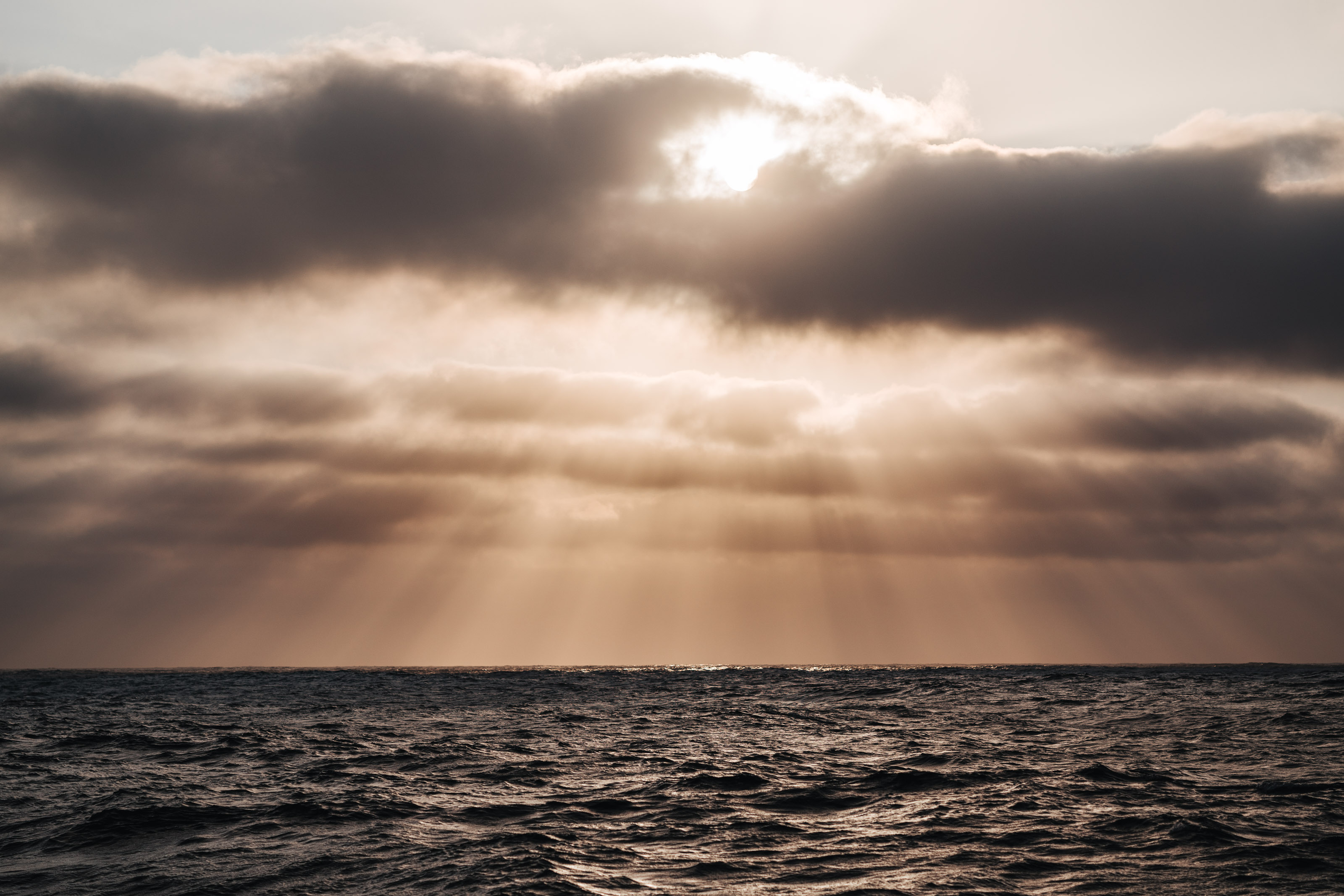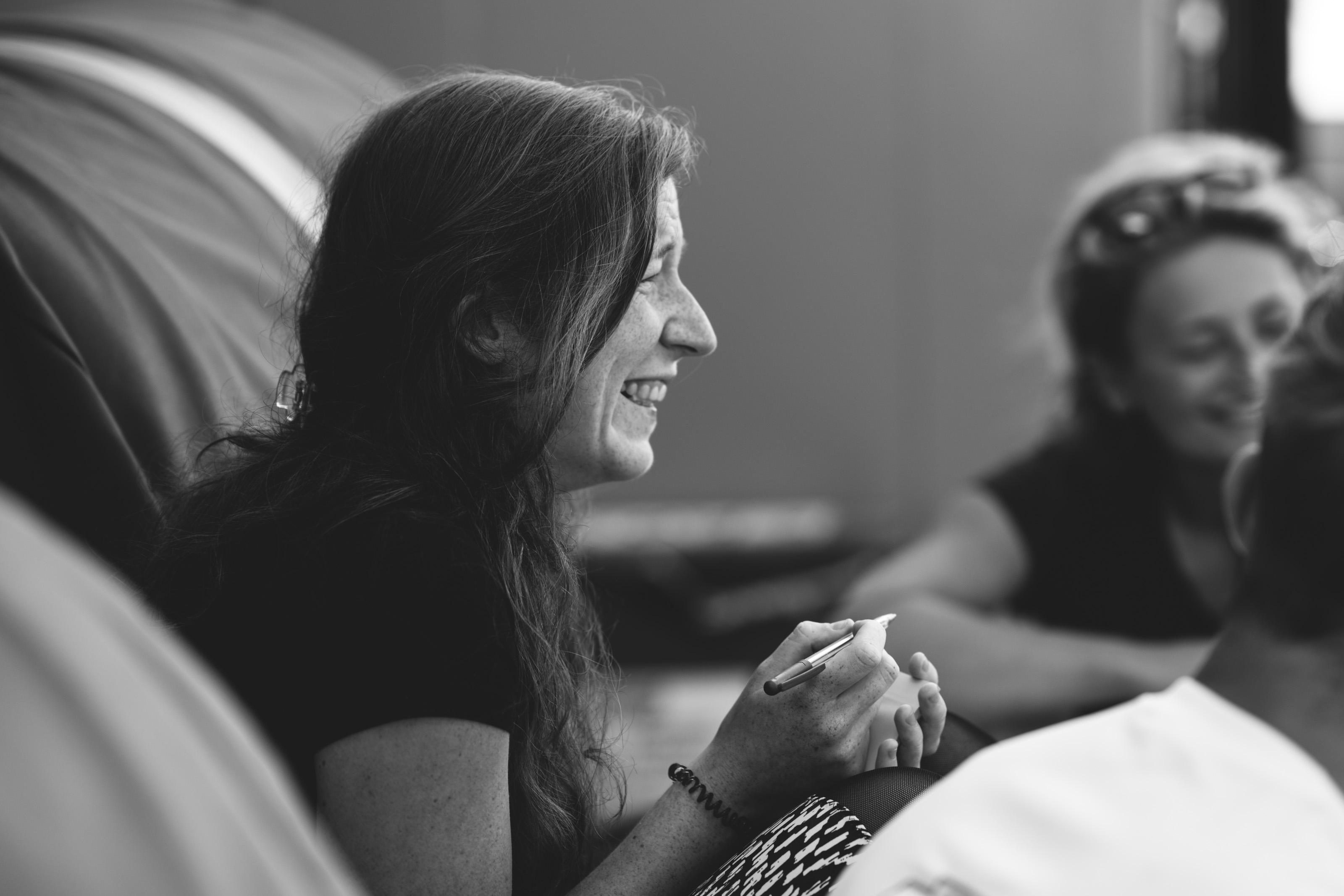 Marlous

02:00 Definitely feels like it's 2 am… sleep creeping in. But still so much left to do. Marlous is editing the operations section, I'll go through the mentality one.
02:56 Hayley playing us a visit again and motivating us by playing the guitar -> doesn't even surprise me that she can also play this instrument (go Hayley!) Loved that one night she played the violin for Roy and I during our night watch 1-2 weeks ago.
04:25 Wrapping up our editing session! Jorren is taking over 😊, he woke up just for this. Sooo… bed time for M and ! Woohoo.
Sharon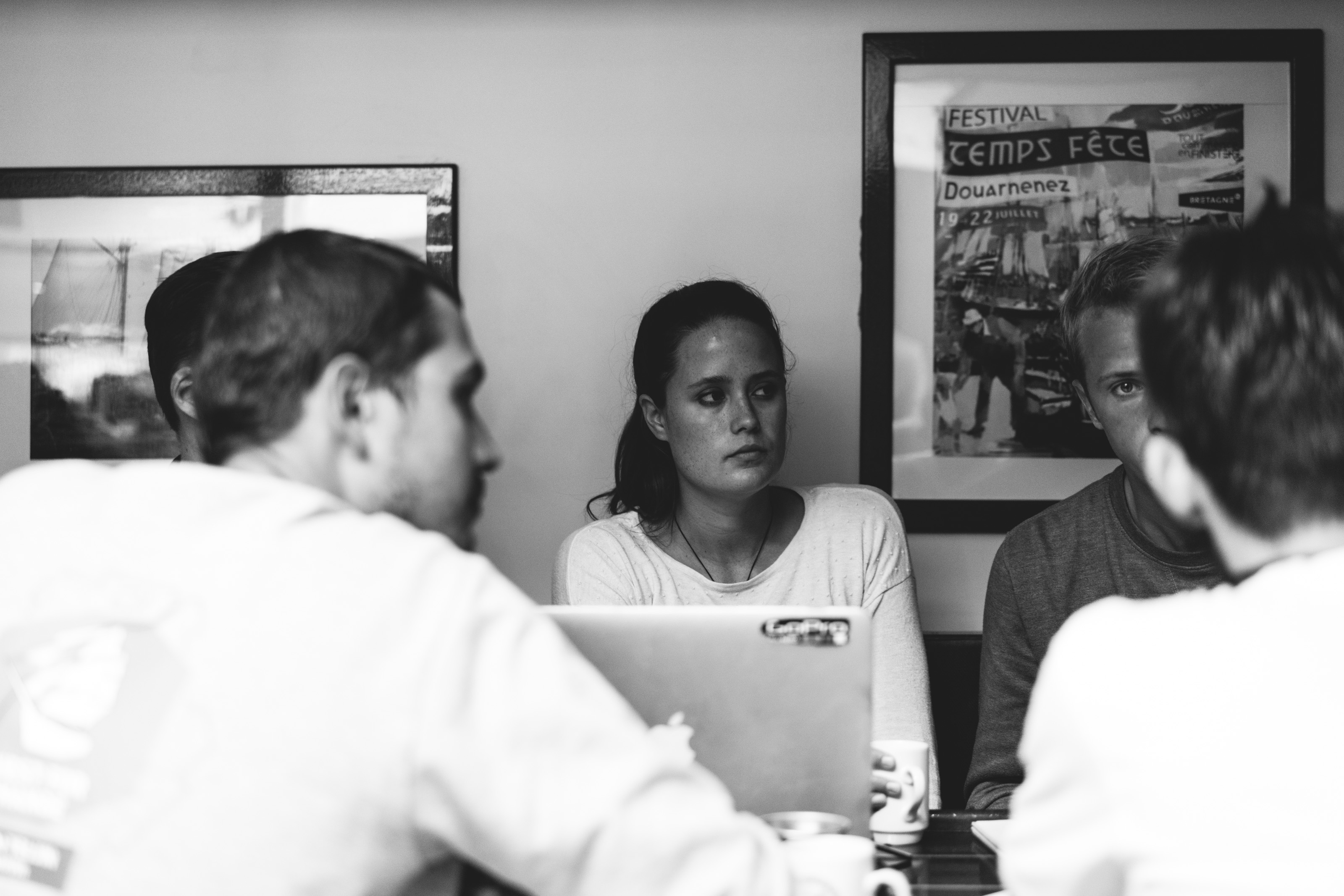 Sharon
Day 24 – Feed the sharks


 
16/09/2018
30º36.5'N  / 16º41.2 'W 
Tonight was the last night-watch of Red-B, which is very weird. We were just getting used to it! Luckily we spent some nice time jamming on the violin, guitar, flute and accordion together with some lost Red-A members, and Hayley (bosun) I really enjoyed seeing the sunset, the moon rise and the stars shoot on this final night awake at sea. And of course let's not forget that we swam in the middle of the ocean today! Time to feed the sharks! But luckily no one was eaten and we will all arrive to Tenerife safe (and on time) Now it's almost time to make coffee and tea for the white watch and to sleep tight.
p.s. I climbed all the way to the royal today, which made me feel proud and amazed at same time. So cool!!!!!
Jade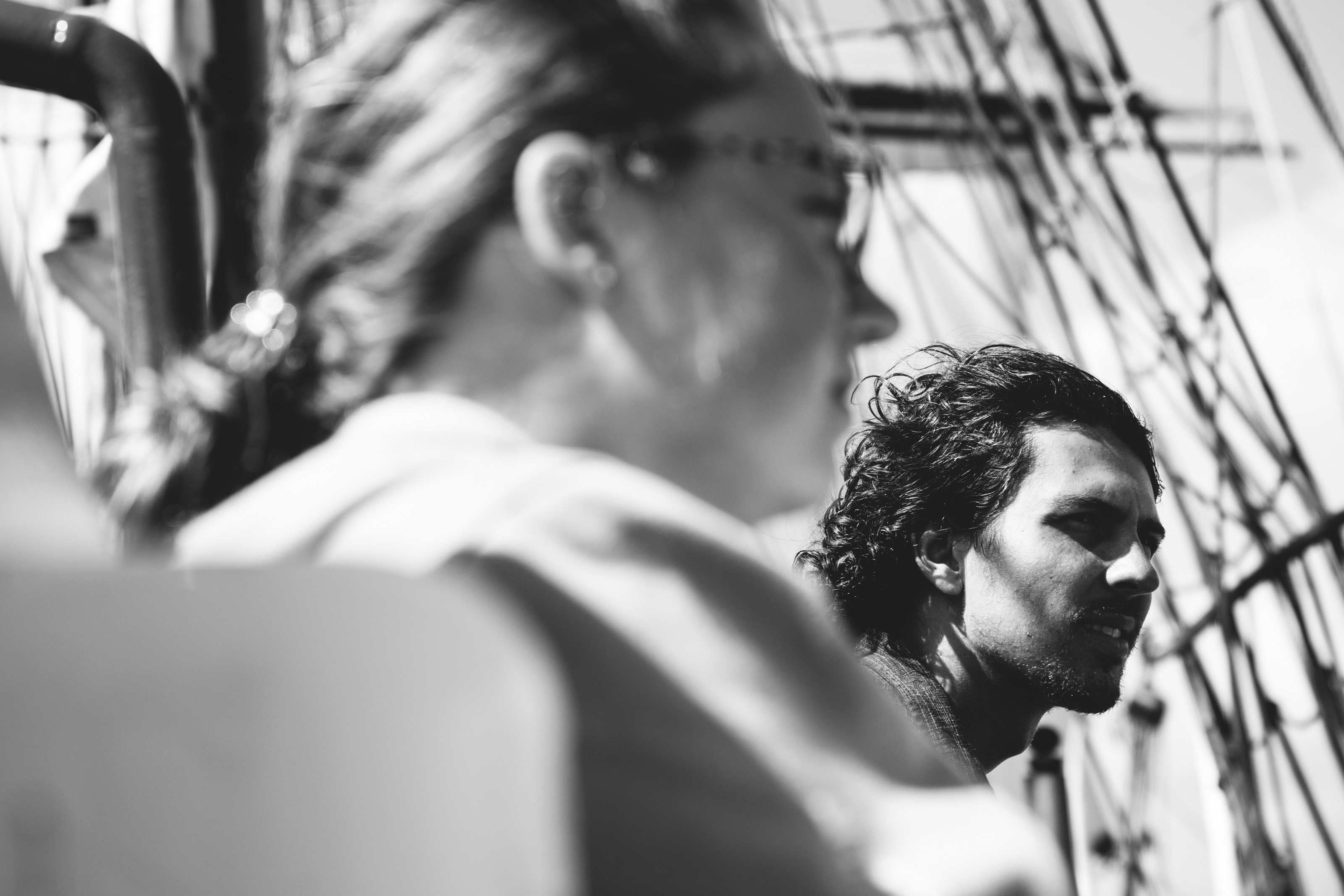 Jade and Brendan
Day 23 – Quiet sea


 
15/09/2018
30º50.1'N  / 16º47.1 'W
Today was a nice day. The sea is still quiet and the weather was very nice! This morning my watch started at 8 when we took it over from the previous group, the sun was just above the horizon which gave us some nice views. At 11 o'clock we started working on the case for Teijin which was pretty effective because of the quiet sea and because we are working in smaller groups now. After lunch and Happy Hour (cleaning) we continued with the case until we had to take the stun sails down. There was not much wind and it was warm and therefore captain Harry decided that we could lower the speed of the ship and swim next to it! It was a cool experience to swim in more than 4 kilometre deep water while you can only see water around you and no land. After the swimming we celebrated Sharon's birthday with cake and continued working on the case in the sun. I expect some good food and a nice sunset for tonight. Hopefully tomorrow another great day!
Jitske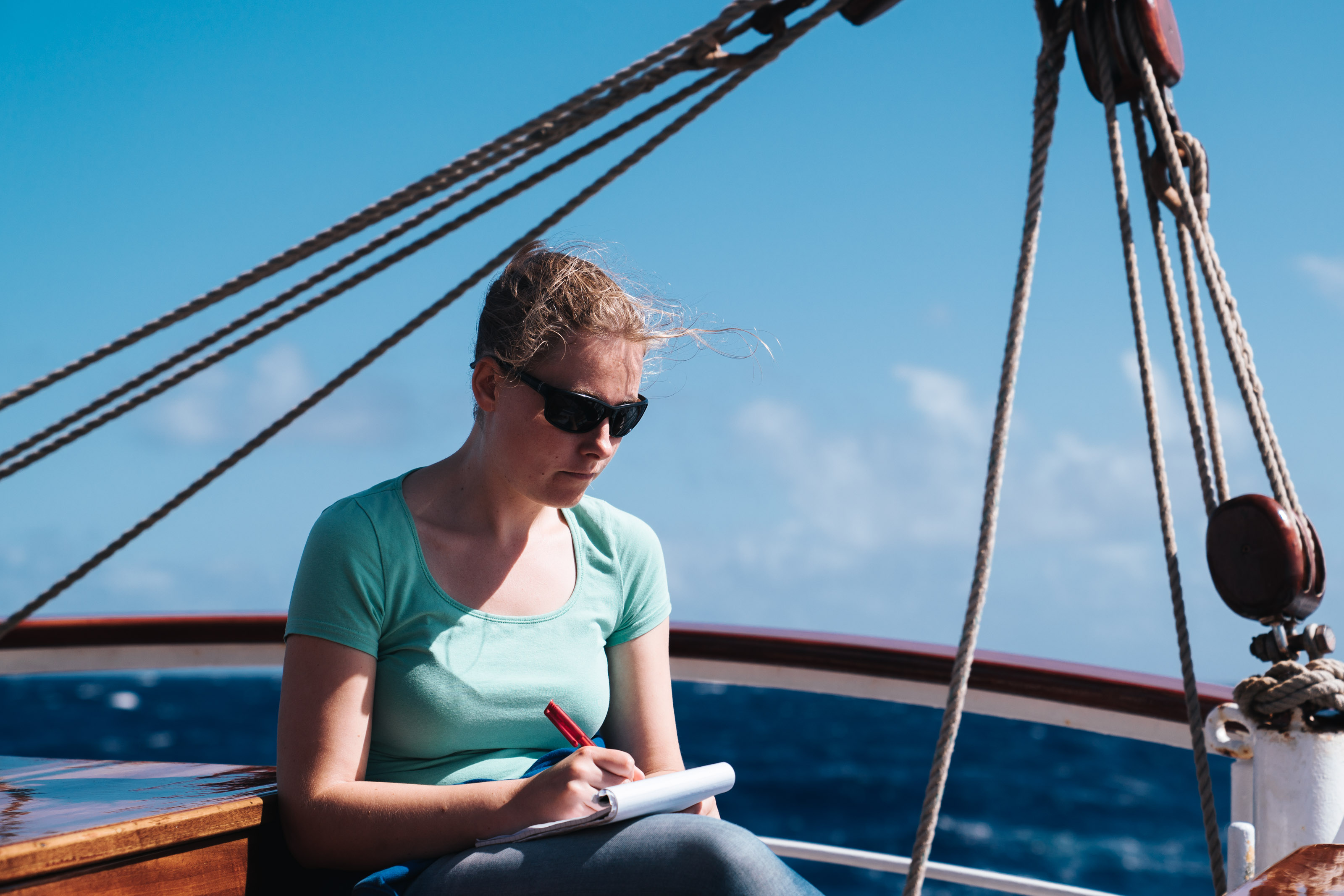 Jitske
Day 22/23 – Whale song

15/09/2018
31º42.5'N  / 16º49.2 'W
Whale song
After some amazing whale spotting… Job and I joked about making a whale song. We had planned to do it during this night watch, but as always with plans it did not work out the way we wanted it. We have spent the night looking at Pablo climbing in the mast, eating toasties and looking at falling stars. We are no longer memorised by the glowing algae but prefer to try to steer the ship using our eyes instead of the rudder ( how is that word spelled?) Job says: "It's called a helm." It's nice to go south because the temperature rises, but I do not like the fact that the sun rises later and later… Maybe Gerie (crew Clean2Antarctica) can make the sun appear instead of making it disappear (she really did earlier this trip). Now we have to get back to song writing.
Edith (and Job for moral support. No worries!)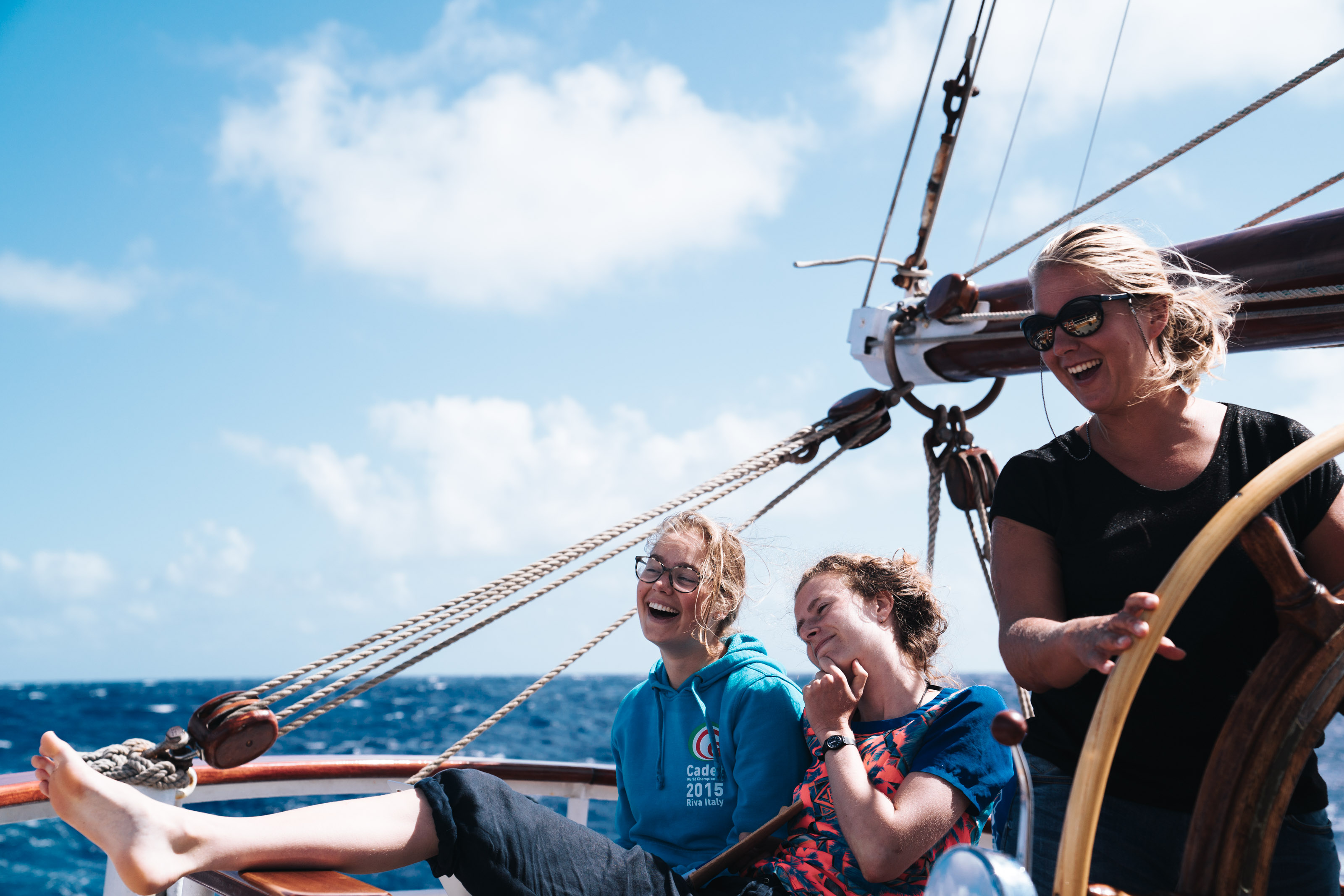 Jade. Marieke and Gerie behind the wheel
Day 22 – Hoopoep bird

14/09/2018
32º08.1'N  / 16º43.2 'W
Another amazing day after the amazing dancing. Today started very early after a late night with setting up breakfast hewing the anchor and sailing away with support of the stun sails! The morning was very nice because setting sails and running happily around on deck. In the afternoon my tiredness kicked in, after being productive for the case. So I tried to sleep behind the boxes on the aft deck. However, there was too munch exciting stuff going on… For example: whales!!!! And more whales and also birds, so the sleeping didn't really work out. What I did find out though is that I saw a 'Hoopoep bird' on Porto Santos, which is very exciting because it looks like a zebra with a very big fluffy thingy on its head.
Hoopoep
Sija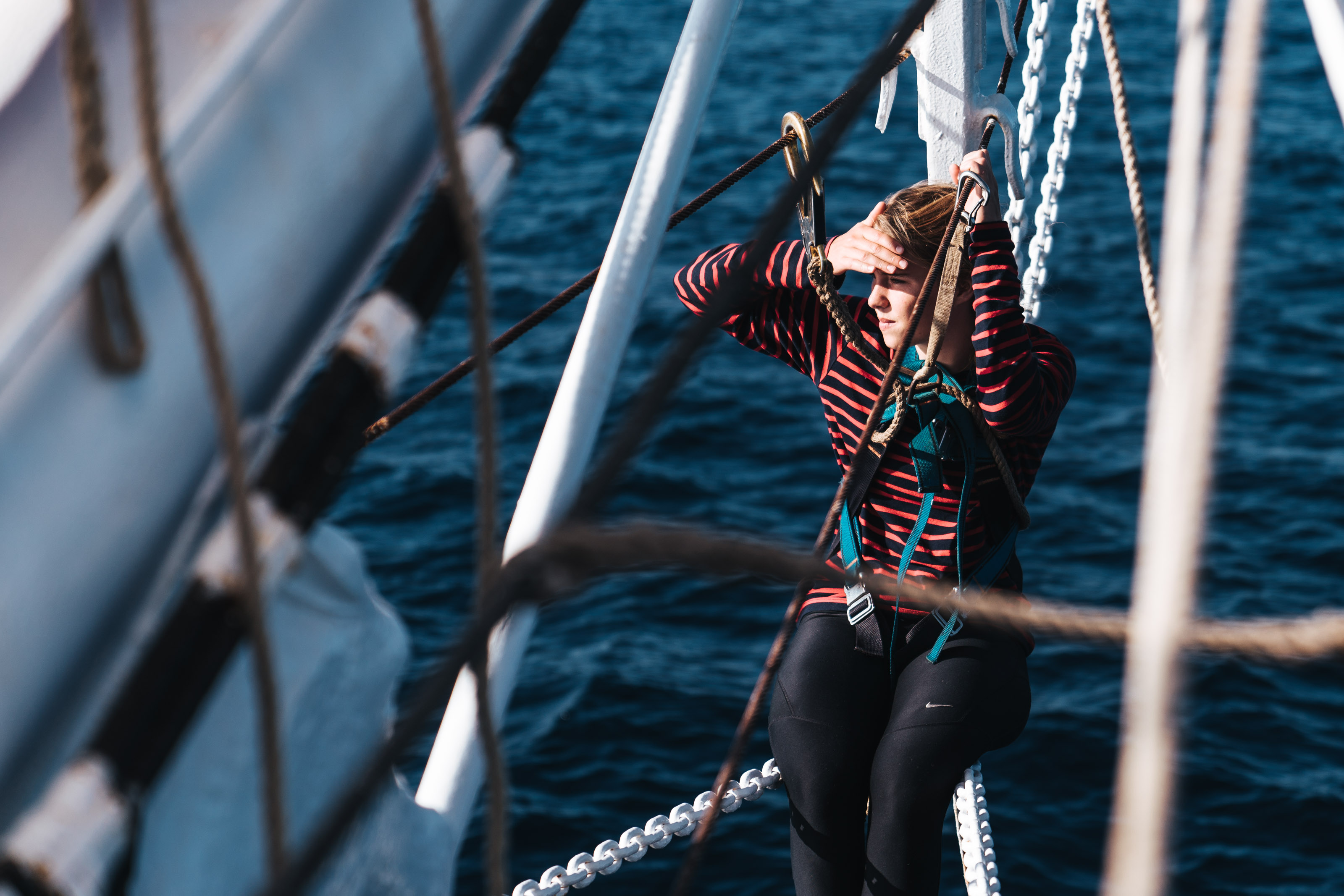 Sija
Day 21 – We crashed the party

13/09/2018
32º27.8'N  / 16º40.7 'W
Bom dia, Buenos Noches, Calispera, a story by Brendan.
A few days ago I woke up to see the contours of Porto Santo, doom up on the horizon. We dropped anchor, while under sail in de bay, sheltered by the high volcano. The small Atlantic island lay before us, however the duty and Quest for Teijin kept us busy, the first 1,5 day. The intense case meetings where interrupted with swimming sessions. Yeah! Diving and swinging of the boat was amazing and snorkelling with my team mates. We are all really good swimmers…. Definately a thing that I remember.
Columbus
The celebration of the discovery of the island by Columbus took place and we where not left out… Well we crashed the party! On the big party day we saw a rather small pirate boat approaching from the other side of the bay. We lay at anchor right in front of the pier and town center. And of course a lot of people came to admire the Morgenster. The replica of Columbus boat came close by and we took her pride by shooting our Potato canon. They did not look happy… Hahaha.
During the festivities later that night, we were all ashore. During a play resembling Columbus landfall back in the day, the Morgenster was perfectly visible in the background. The small pirate vessel came by once again now 'sailing' strait into the wind. Hahaha.
Who are these kids?
In the middle of the town square there was a traditional festival. The energy within our group was high and within no time we where having a crazy dance party, setting the night on fire with our grooves. Wow it was super nice to let go a bit and dance. Everyone of the crew was 'lekker aan het gaan.' Super fun. The locals where all watching not knowing what was happening: "Who are these kids?'
So cool and grateful to be able to do stuff like this with the Quest for Change team! Keeping it real and bold. Anchor up! So beautiful times, see ya!
X Brendan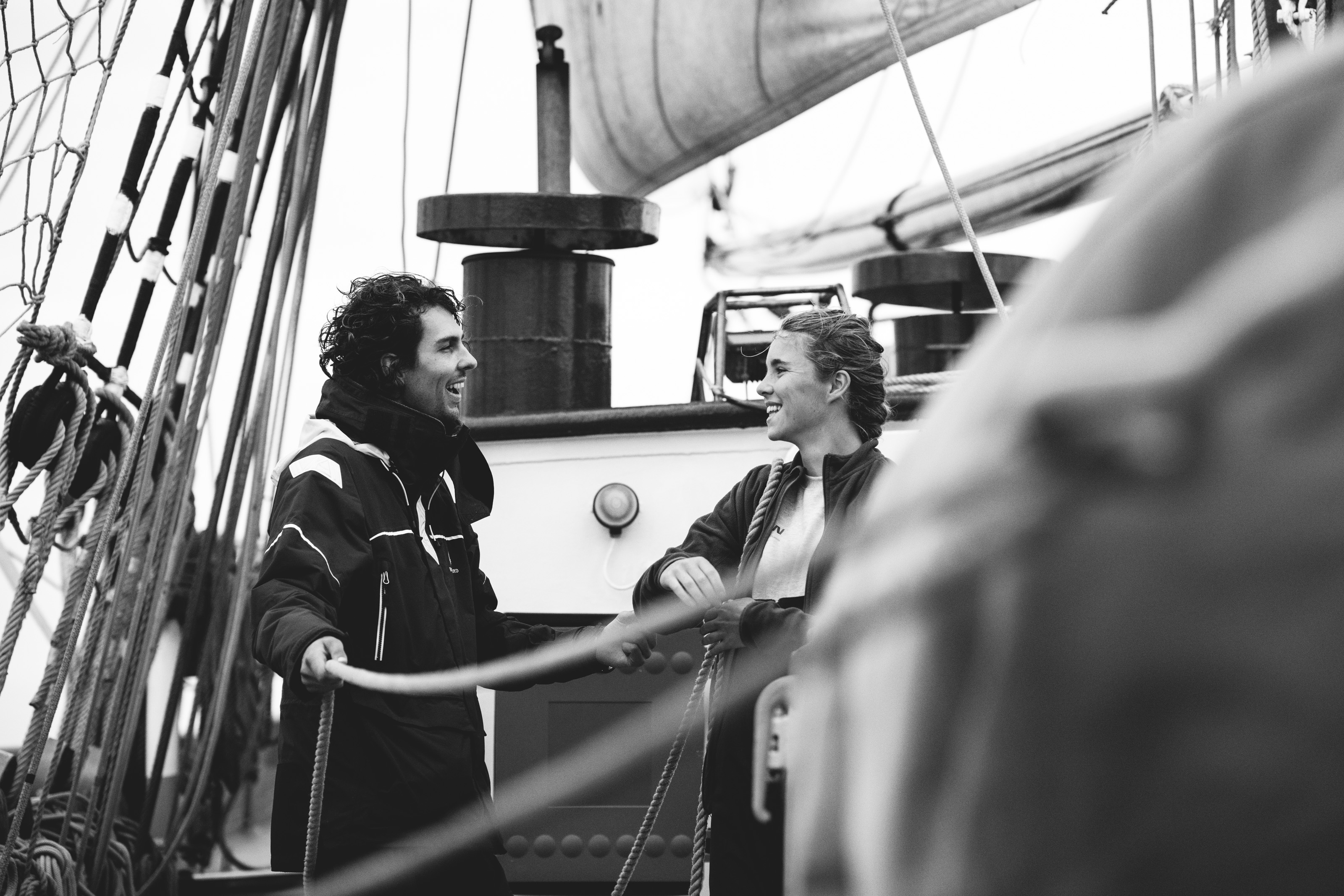 Brendan and Sija
Day 19, 20, 21 - 3 days at anchor at Porto Santo
14/09/2018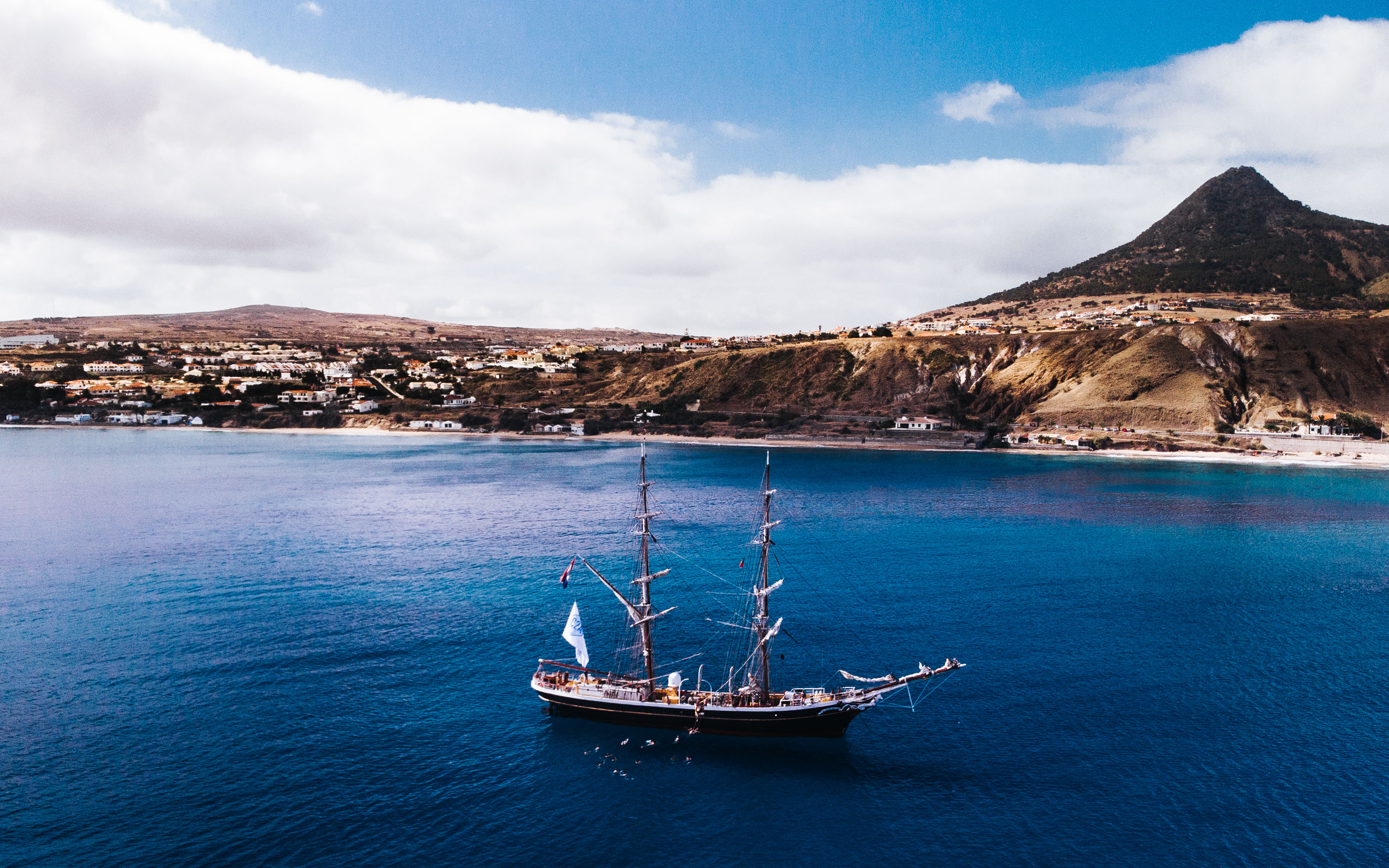 Day 18 – Better than looking green

11/09/2018
33º44.9'N  / 15º33.9 'W
Jade is laughing at me for the weird faces I make when I'm engaged in deep thought. Stijn is just Stijn is the quote of the day apparently. Today I'm noticing that we're really reaching the tropical climate. My face and neck are getting red already. Well, better than looking green compared to some other days so far on this ship. Today we saw dolphins…again. They're just everywhere. I'm really happy! Ready for the night watch!
Stijn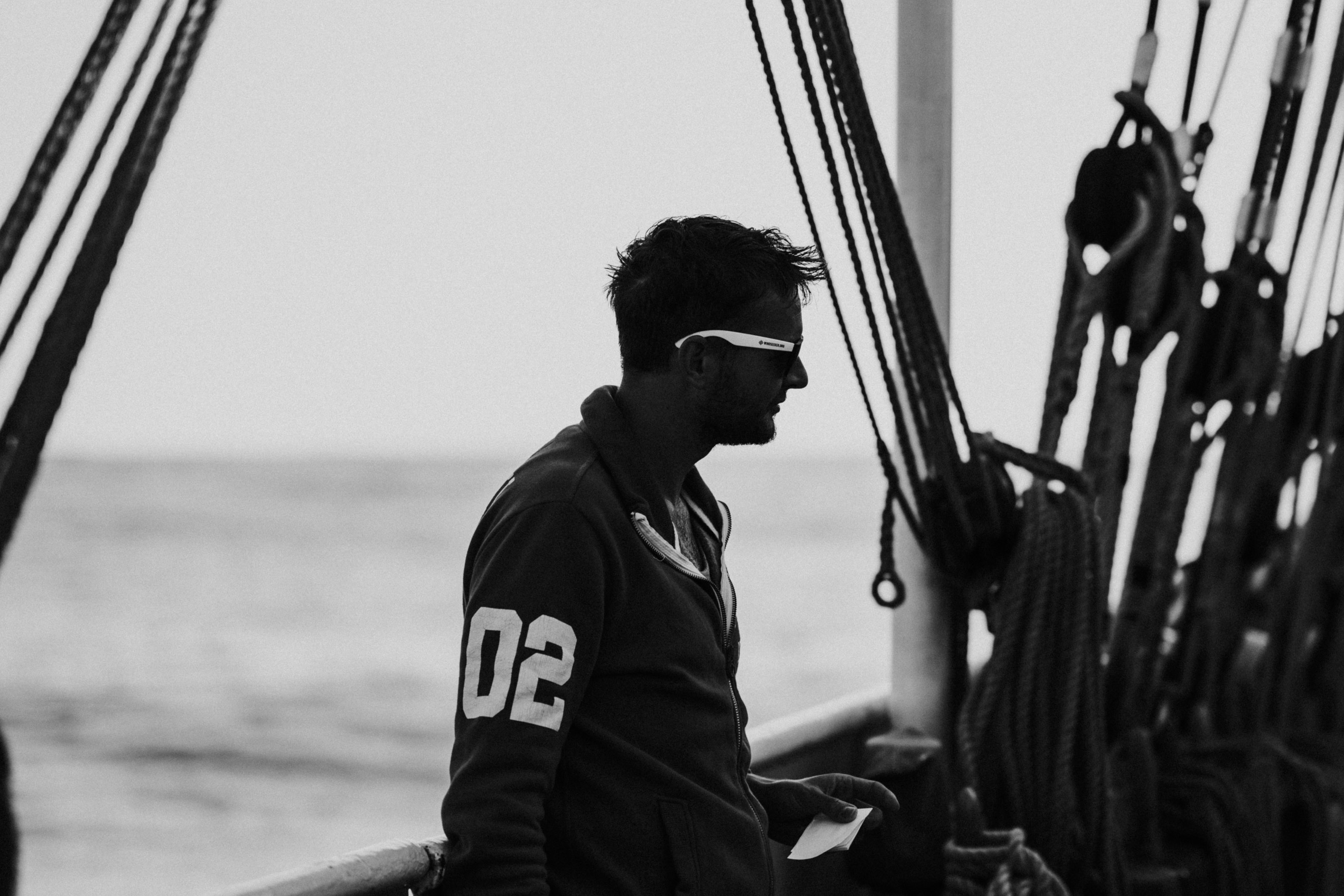 Stijn
Day 17 – Stars
10/09/2018
35º41.2'N  / 13º28.3'W
There are stars in the sea…
Marieke
They were fallen from the sky!
Unknown
The dolphins are doing aerobatic tricks and I only see the splash.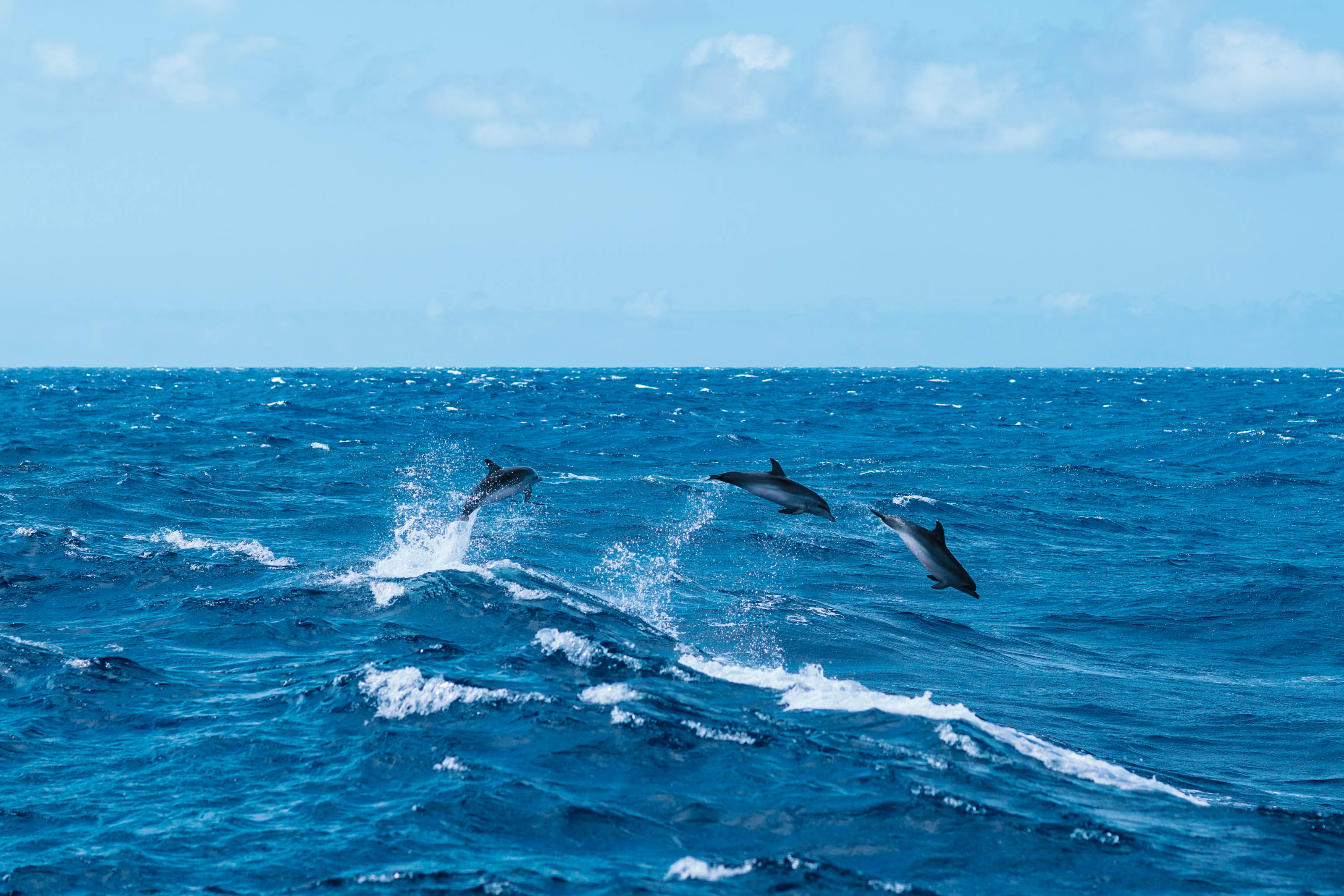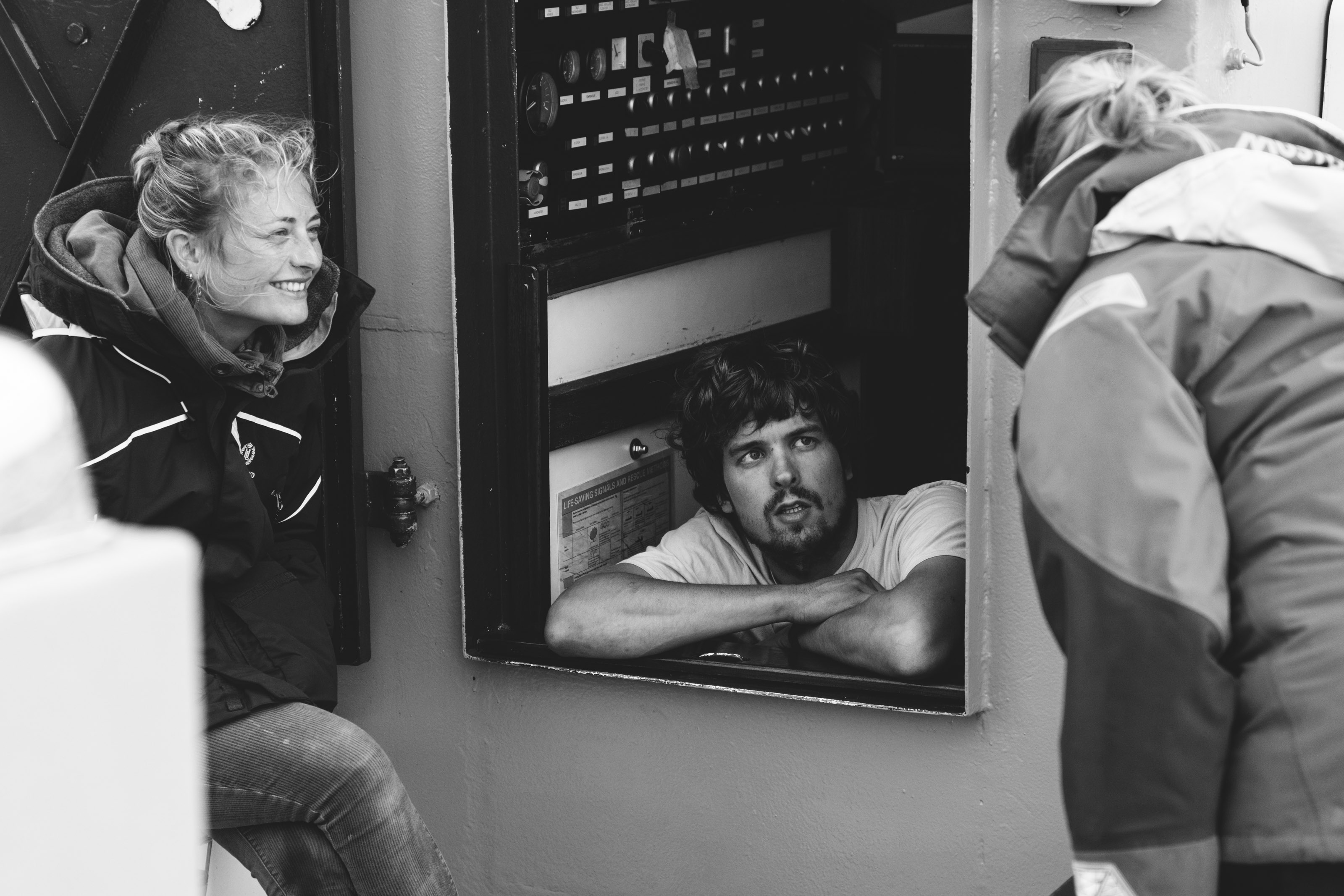 Anne and Pablo
Day 16 – Pablo the detective

09/09/2018
36º33.9'N  / 12º28.2'W
Today I learned that Pablo (mate) is an excellent detective. Before my watch I put my boots outside to cooldown a bit. Within 3 minutes Detective Pablo was in the saloon. Angry 😉. He put my boots in my face. He tought it was very strange to say: "I wanted to let my boots cool down for a bit!" Furthermore , it was Marlous 'birthday.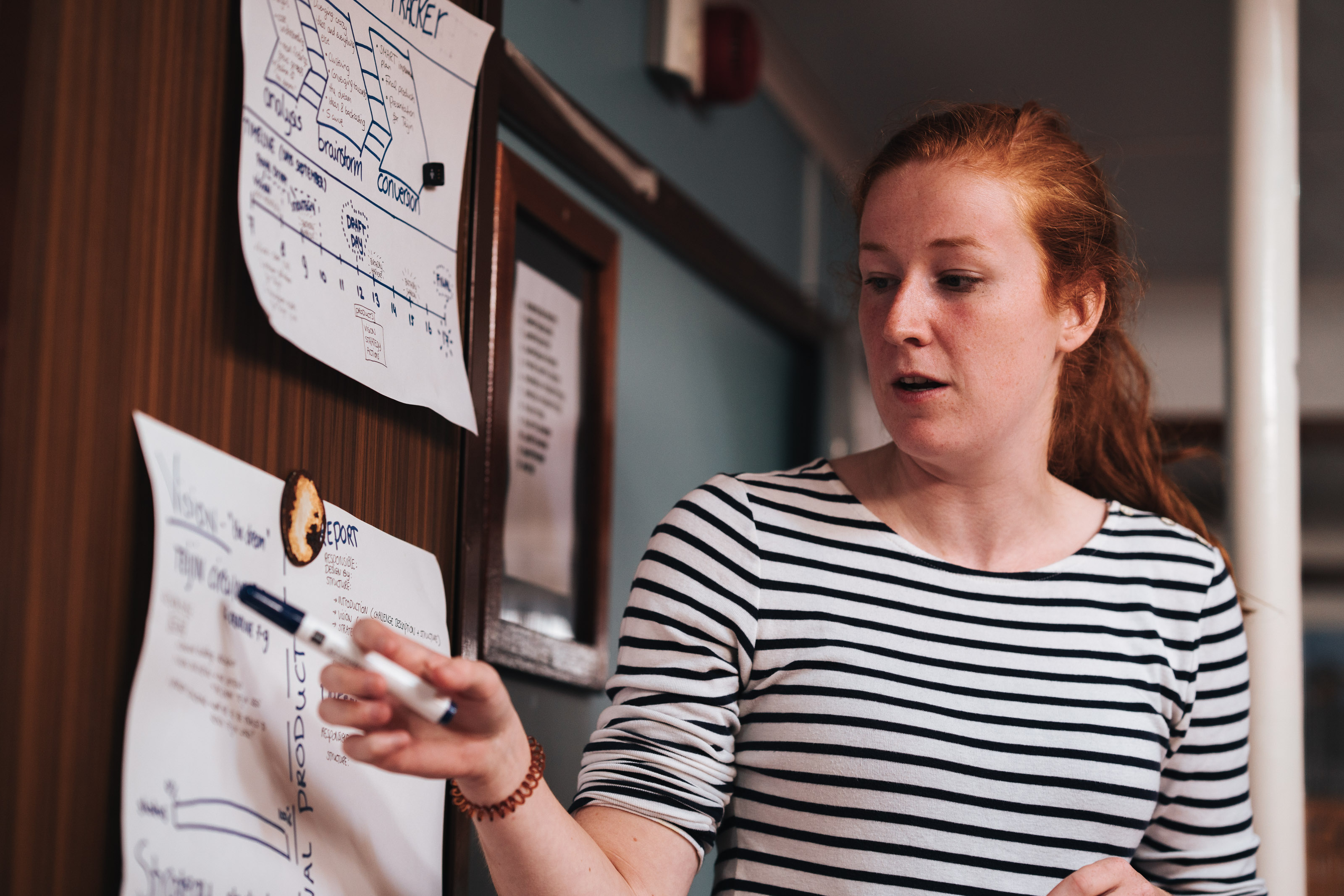 Marlous 
Also, I sparred with Hayley (bosun) about the plastic waste management. Kobe and Sija sowed their own pants. I acquired a MORGENSTER sailing pirate shirt. And Alé (Alessandro), Pepijn, Jana (cook) and I made Brazilian Stroganoff.
The Teijin case went well.

Tsjerk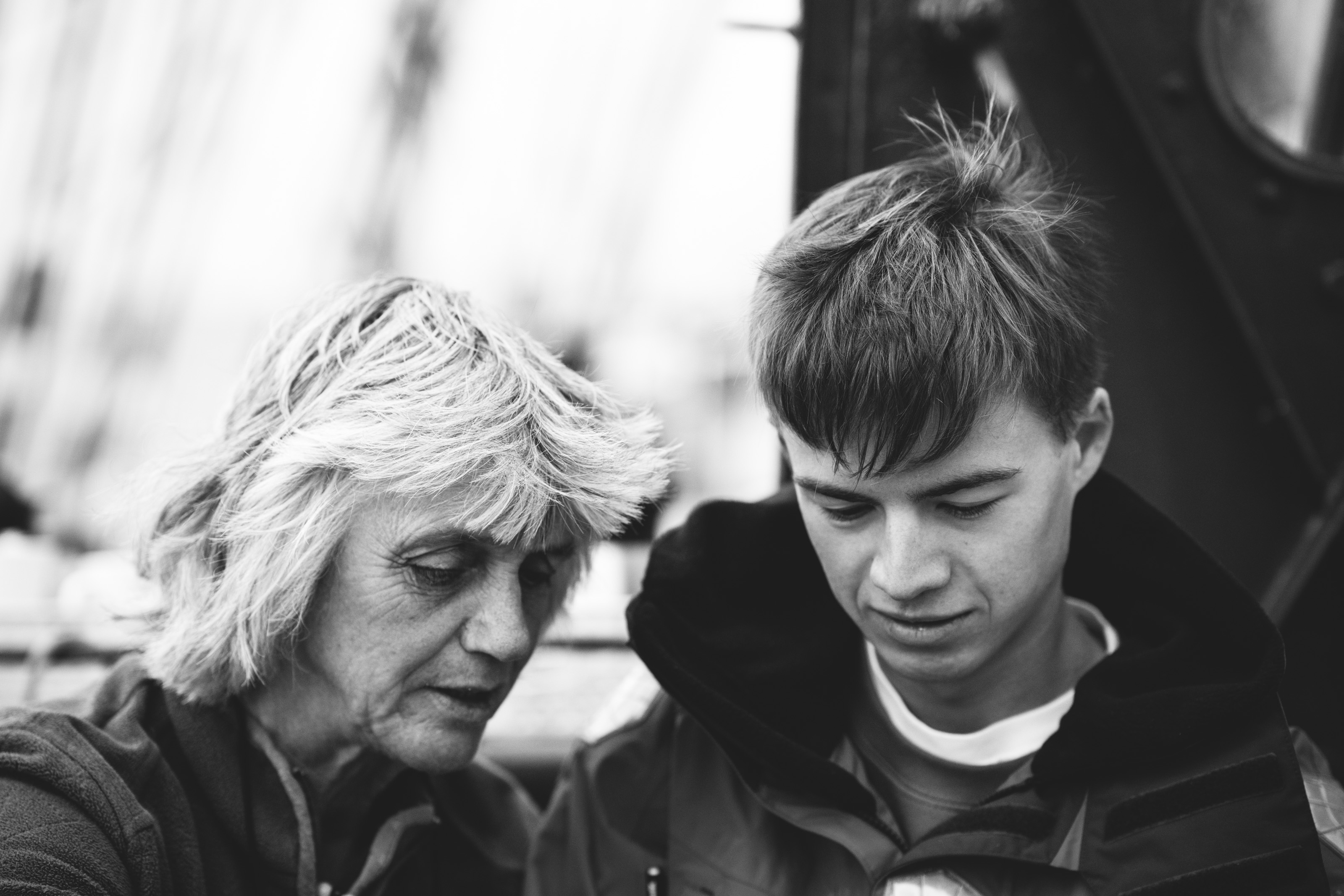 Marian and Tjerk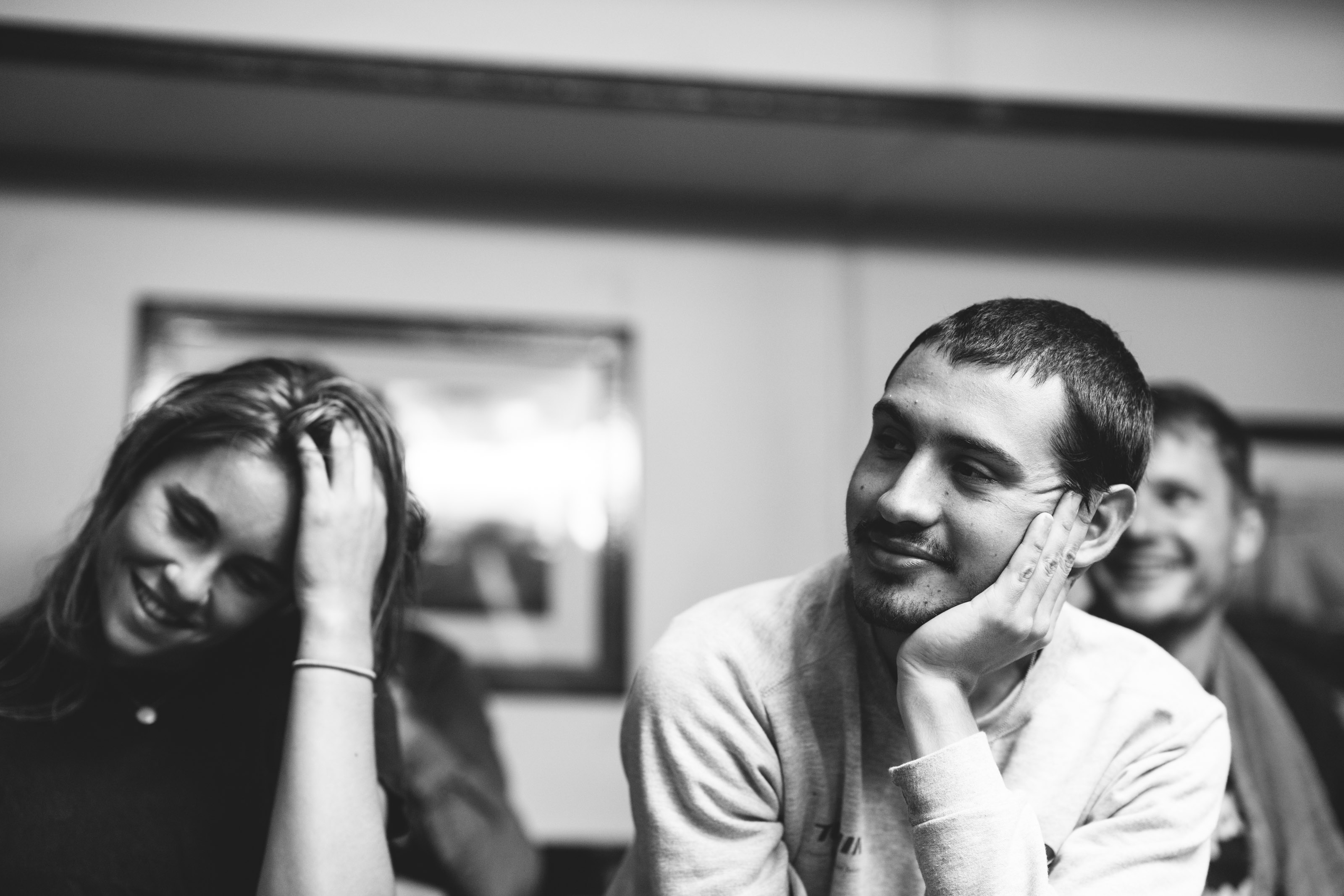 Sija and Allesandro working on the Teijin case.
Day 15 – Shot the potato cannon
09/09/2018
38º08.6'N  / 10º23.9'W
After two days in the harbour of Cascais it feels weird to be back at sea but good to get back into the routine at what in the meantime has become our favourite place…for most of us… seasickness also kicked in again! Tonight we saw dolphins at sunset which was really fun. We have been singing Yellow by Coldplay while watching the sky looking for satellites and listening to Harry interesting stories about swimming cats. Now it's time for toasties and let's not forget that we shot the potato cannon at another Tallship today. We feel real like real sailors now!
Jade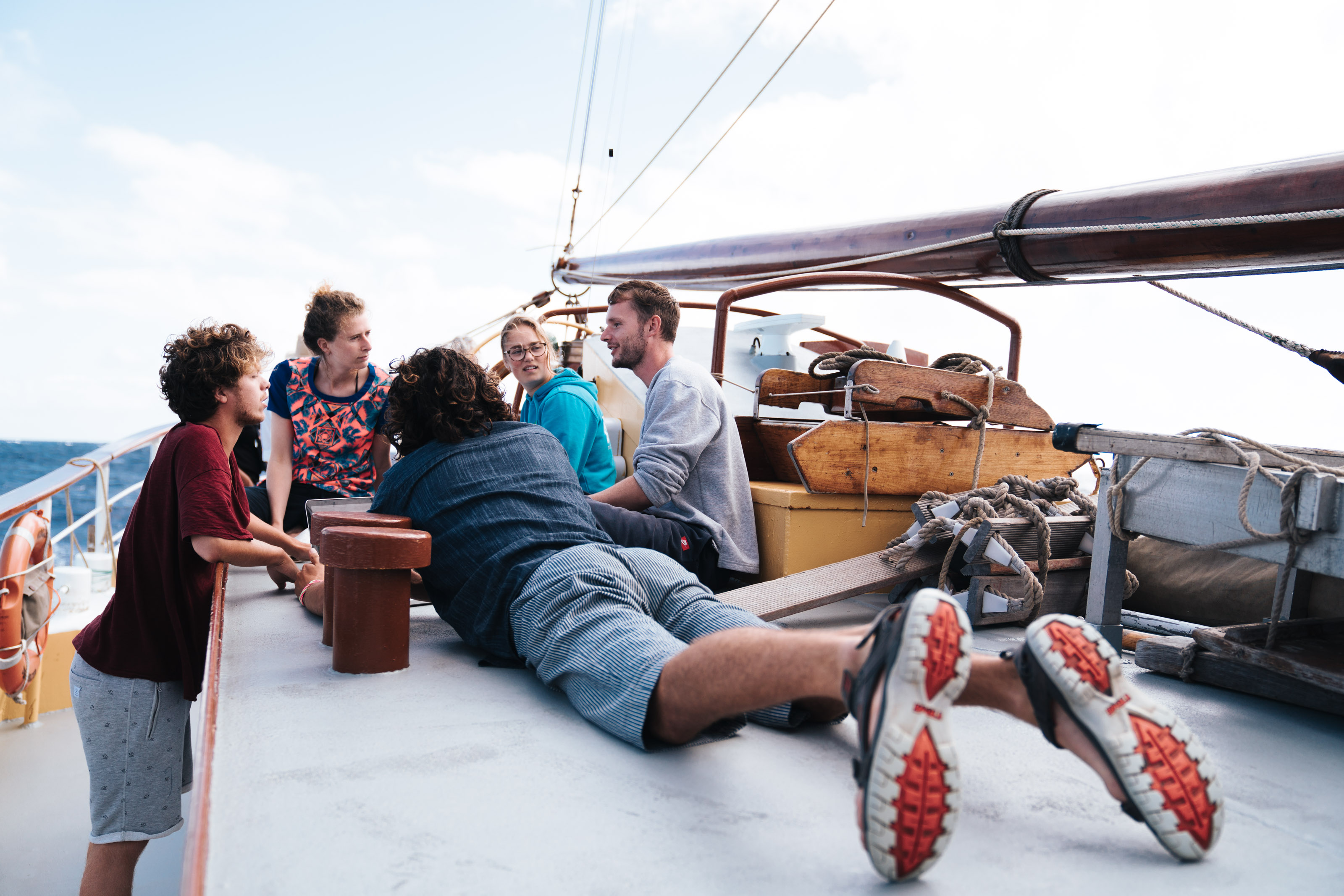 Jorren, Marieke, Brendan, Jade and Stijn.
Day 13 - Wrap week 2 (video)
07/09/2018
Day 12 – Kudos to Jana, our brave cook

06/09/2018
38º35.2'N  / 09º36.4'W
Today we have a nice evening. "Well it's a very nice day", to be read in Captain Harry's voice. As we turn south, leaving the Bay of Biscay end settings course alongside the Portuguese coast. The waves are setting progressively smaller. If they don't make for a deeply impressing view anymore, they at least, allow us to be in a better shape to work as a team. Kudos to Jana, our brave cook that kept us fed when the ship was banking 30' toe ach side. We have now calmer days ahead of us, as the captain told us we have a 40 hour stopover by Cascais planned. As a Brazilian, I am very excited to visit Portugal for the first time. Looks like tables will turn when it comes to languages between me and the rest of the team.
Allesandro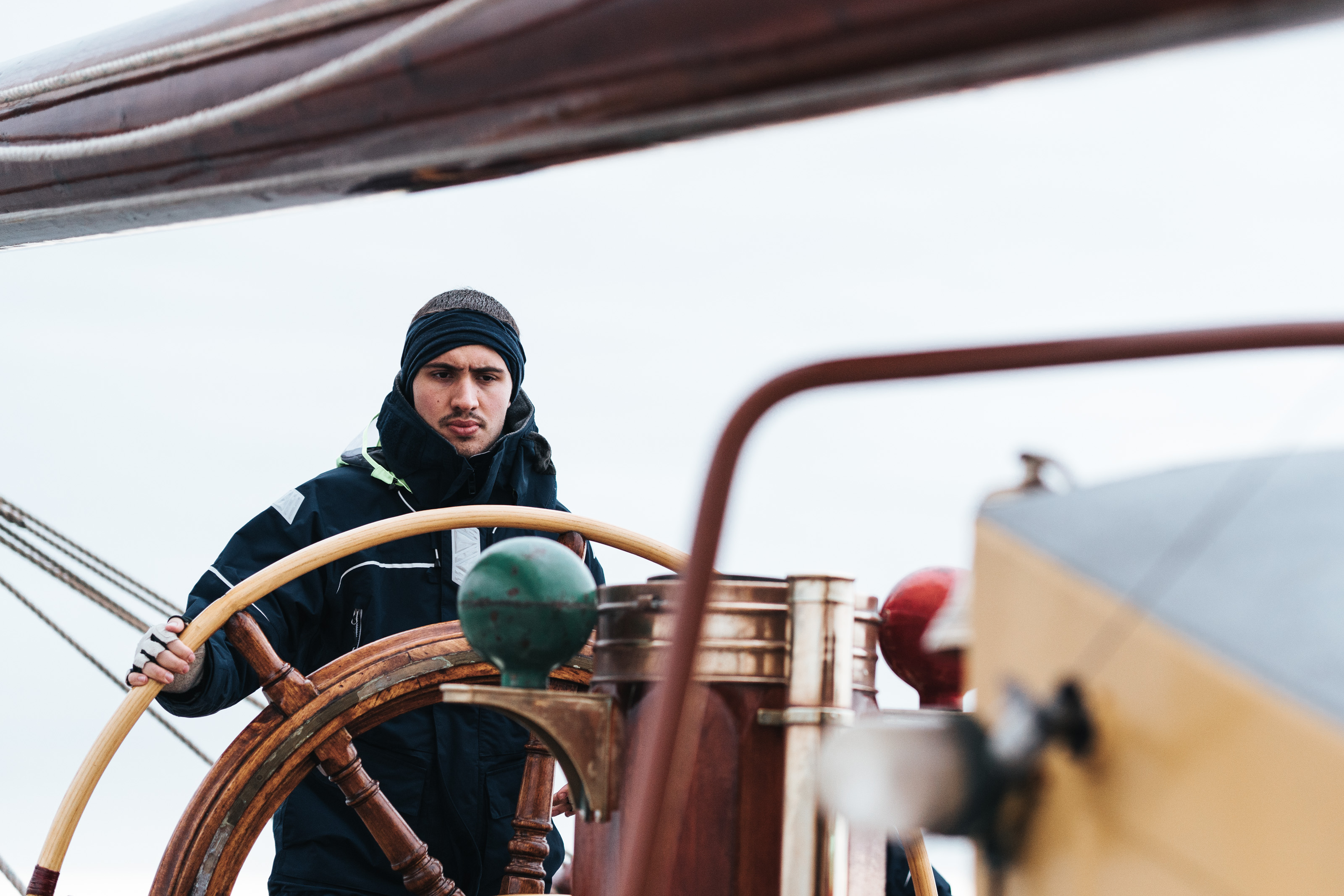 Allesandro
Day 11 – Rocking back and forth
05/09/2018
42º09.5'N  / 10º31.1'W
So far tonight is an uneventfull night. The wind is still in our sails and the waves are still nibbling at our feet. The boat keep rocking back and fort hand back and forth…. Here's to hoping everyone is getting a good nights sleep.
Stephan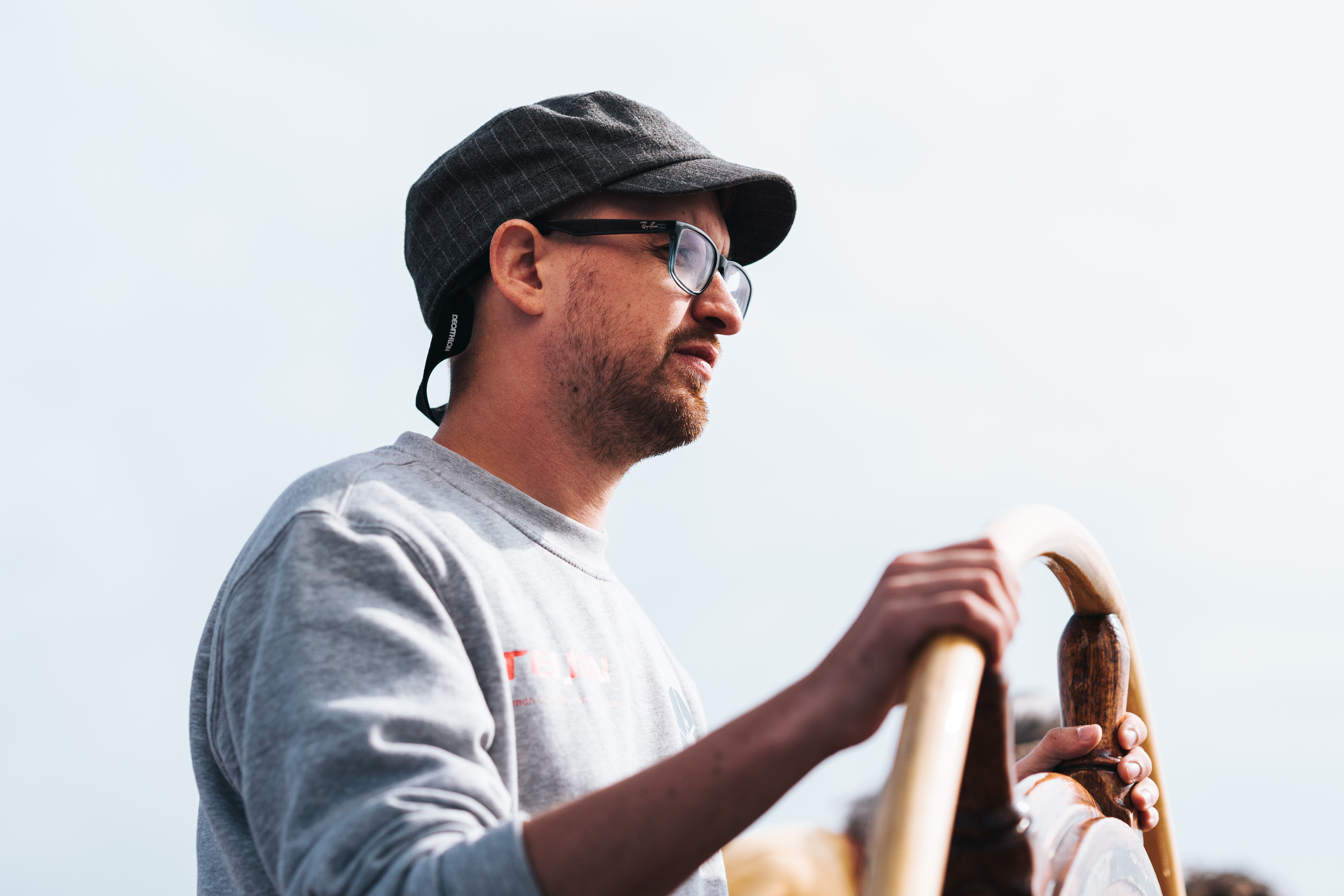 Stephan



Day 10 – Alles valt om
04/09/2018
45º09.5'N  / 04º51.1'W
Onder een bewegende hoek van 20 graden ben ik een presentatie aan het maken. We gaan zo'n 11 knopen per uur. Ik denk dat niemand een oog dicht doet. De hele nacht had ik het idee dat ik gewekt werd maar de tijd ging langzaam. Zoals het er nu naar uitziet, lijkt het mij beter om maar 1 sessie te doen morgenochtend. Alles valt om. En achter het roer staan is een work-out.
Part of the deal.
X Marieke
p.s. Een broodje hagelslag lijkt mij niet erg handig als ontbijt 😊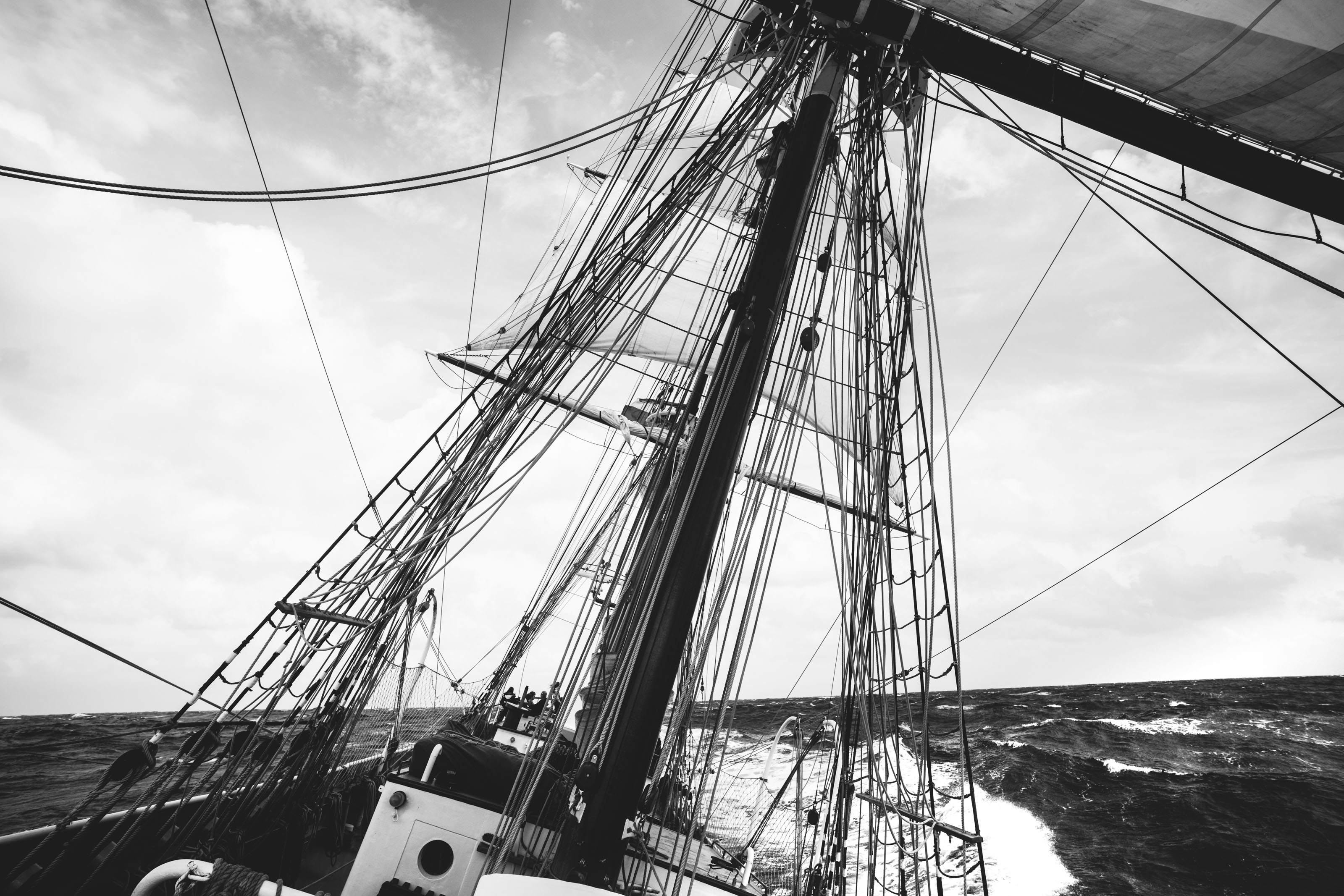 Day 10 – A whale came to say hello
03/09/2018
46º27.7'N  / 07º42.1'W
Today marks the end of our first week of sailing, and what a week! Seven days filled with adventure, creativity, mystery, discovery, friendship and tons of happy moments. As every other day, this day started for me by the end of my watch ( red team forever) on a lovely dark sky full of stars. Words sound sometimes not enough to decribe the feeling that you are such a tiny part of the universe, and more.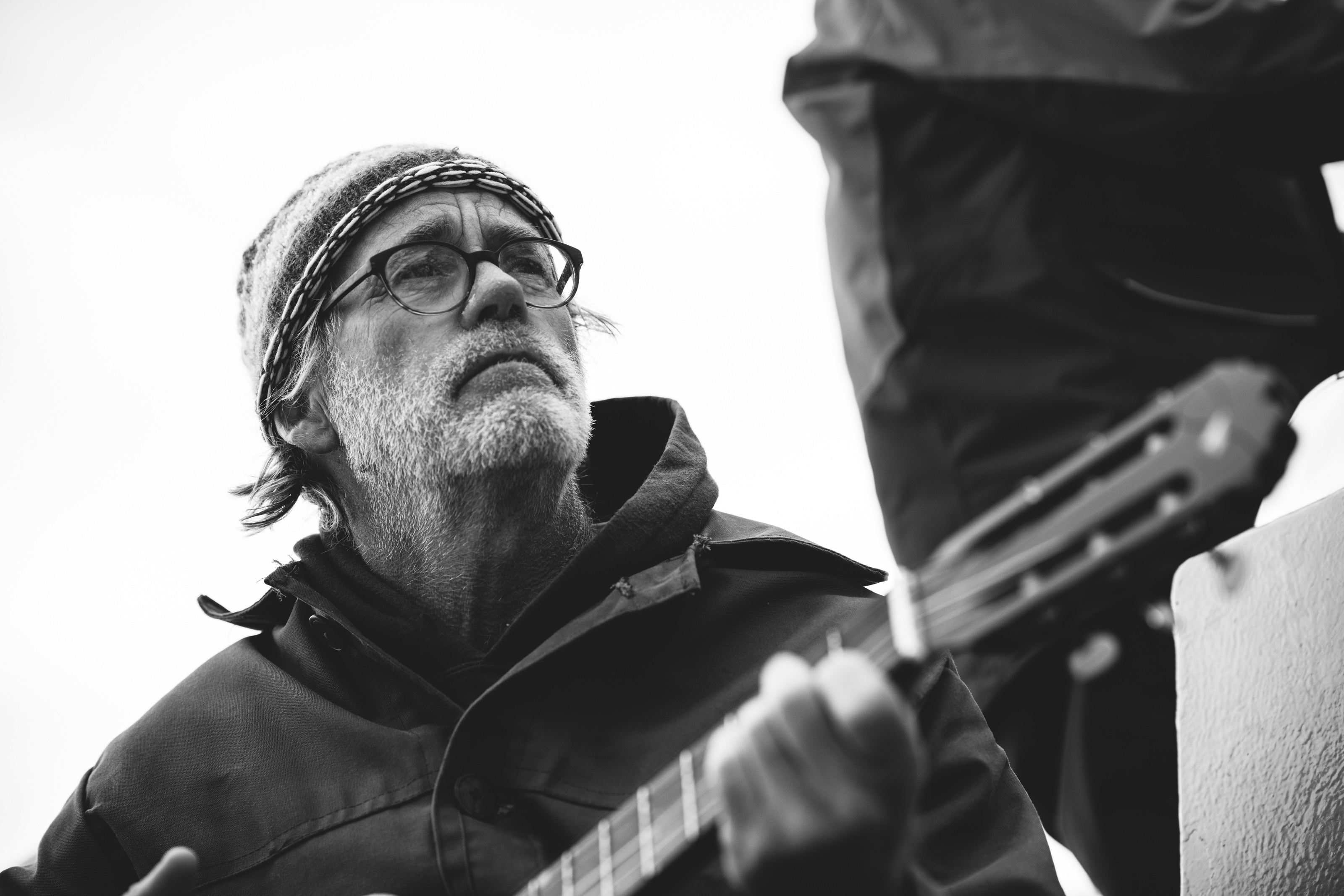 Harry playing the guitar
I was feeling really grateful to be outside and share my 8-12 watch with Harry the captain. Our few hour in the morning sun were filled with steering and loods of music! Harry playing the guitar, me playing the flute, Jade and Brendan singing the new song we just created on the melody of "Bella Ciao".
I was on the case team today… After a delicious meal where a whale came to say hello for the first time! It's amazing to see how everyone suddenly get so excited about this and fall back to childhood in a wink… 😉
Claire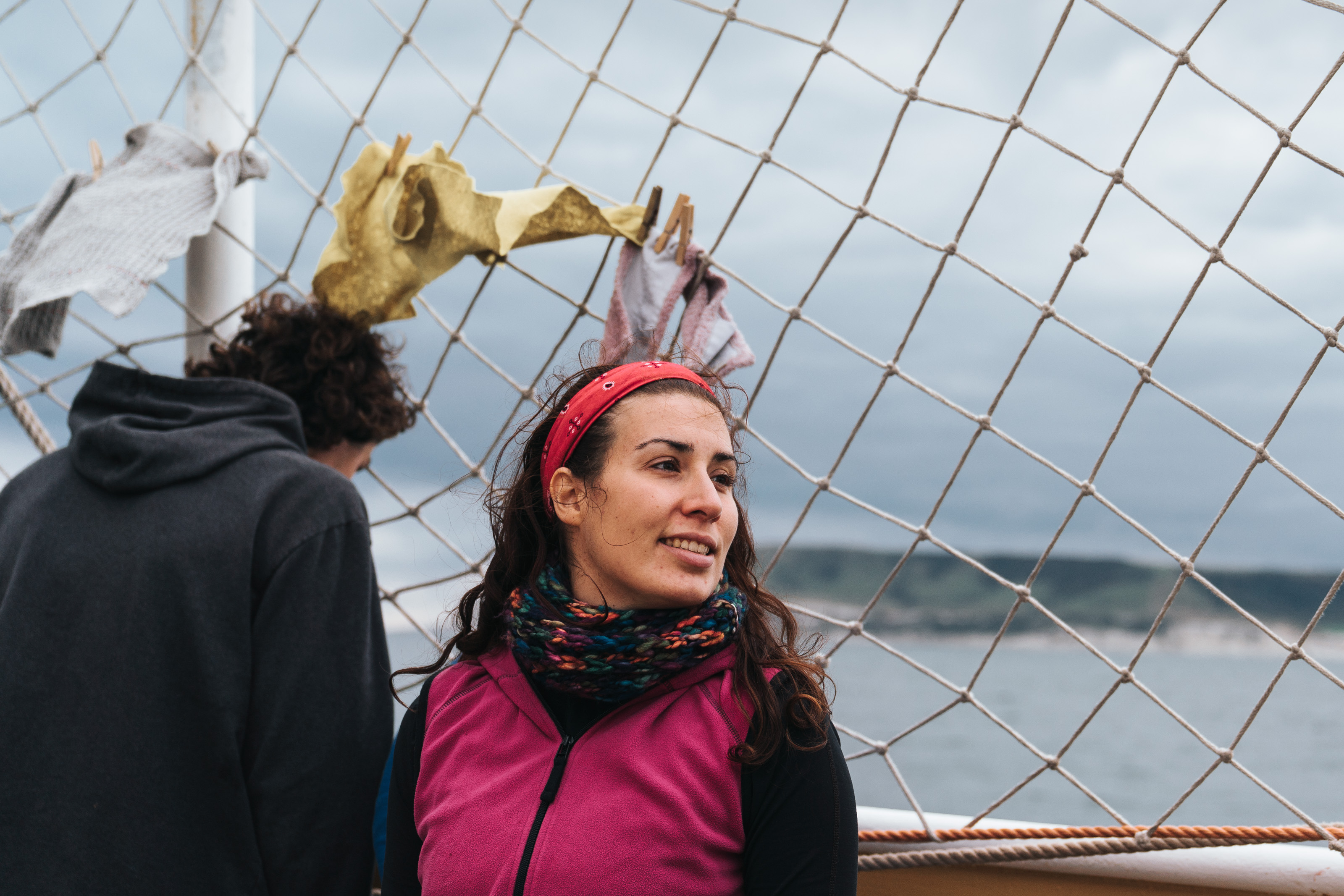 Claire
Day 9 – Pancakes
02/09/2018
48º26.2'N  / 05º26.1'W
This morning a part of the blue watch was woken up at 02.45. Our watch starts at 04.00. This is the best watch time ever because you see the sun coming up. And since this morning Edith and I can bake fresh bread. We started at 05.00 because the bread has to rise for around 2 hours. It is a special sunday today, I don't know why but we had fresh kaiser breads and PANCAKES. 4 hours watch are going fast if you are doing something.
A sad detail: you can't see the sunrise from the kitchen. Our watch started with a sky full with stars and ended with our fresh baked bread! And when we came upstairs there were some beautiful dolphins.
p.s. We cleaned the kitchen ourself. ;-)

Marieke (aka blue watch, team A, room 7. Bunk upper right)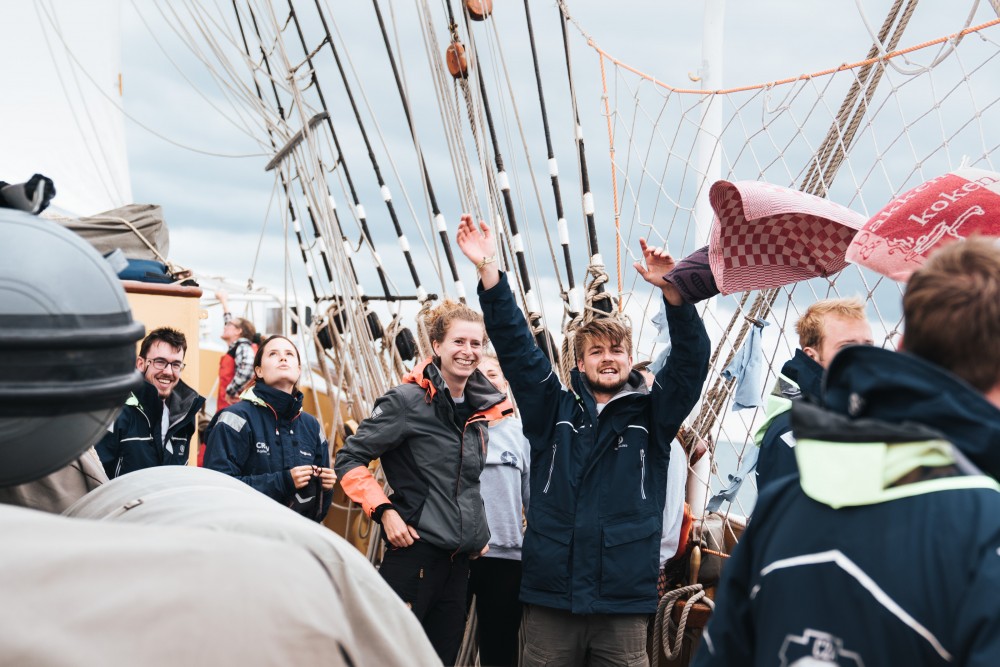 Roy, Sharon, Marieke en Kobe
 
Day 8 – Dol fijn!
01/09/2018
49º10.5'N  / 03º46.7'W
"Aaah!" ( turkeysound ) that's the sound you hear when Tsjerk sees dolphins. Today we saw a lot of them and everyone was quite excited.
Job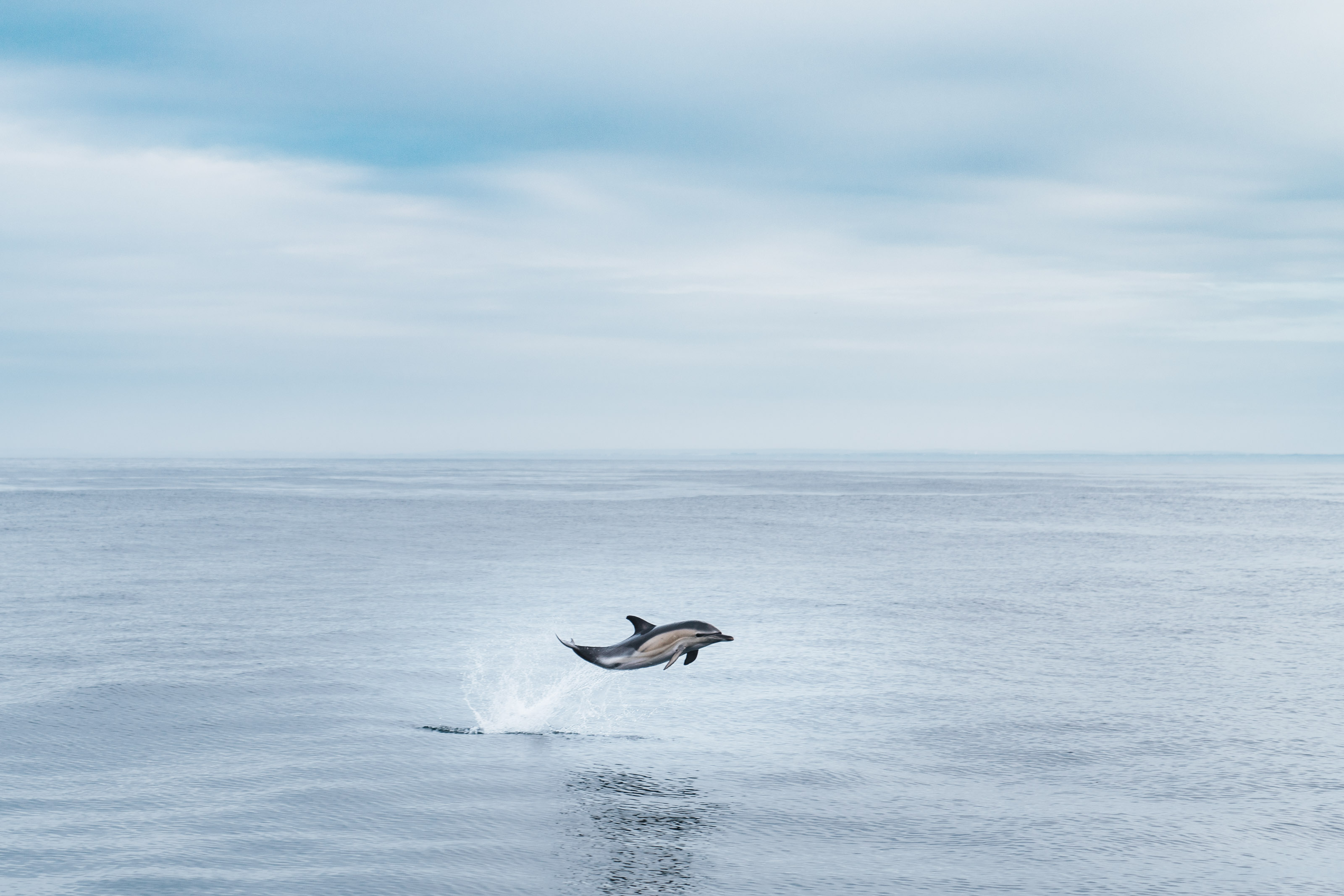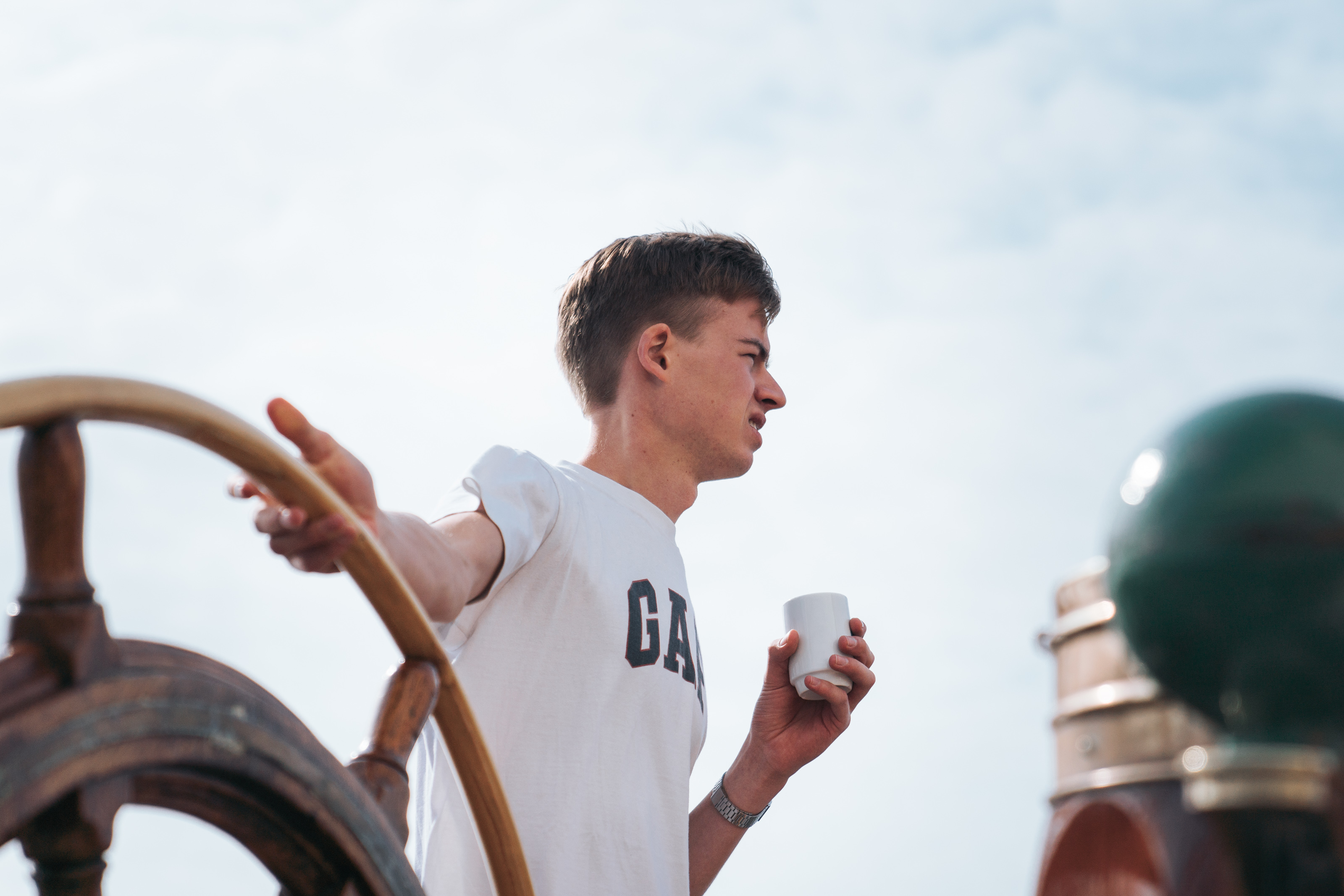 Tsjerk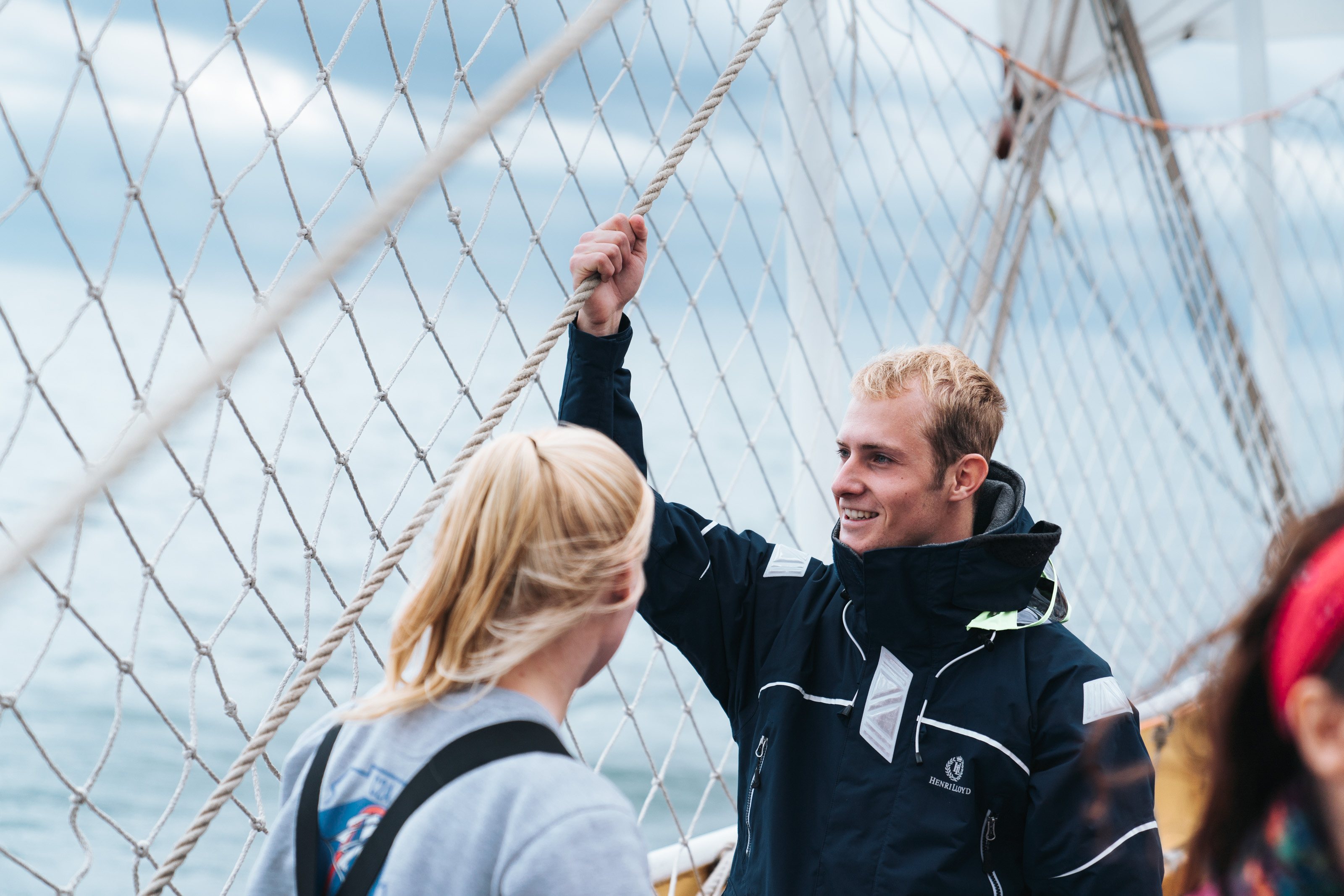 Job and Lidewij
Day 8 – Mayday
01/09/2018
49º45.8'N  / 02º33.3'W
So, my birthday is over now but it was a great one! Thanks again to the whole team and crew for making the day: one to never forget. Our 00-04 watch started with some easy motor sailing when suddenly there was a mayday call on the marifoon. Some mate went away on a rubberboat when their ship was in the harbour nearby. He didn't come back, so the others were quite concerned. After lots of back and forth information... the mate was found in a local pub! Lesson from this: just let the coastwatch know you're having a drink when you actually do, saves some buttsqueezing minutes of your colleagues. Now it's time for the famous toasties, we are trying to sail on the little wind there is. Sleep well and good luck to the blue watch!
Lidewij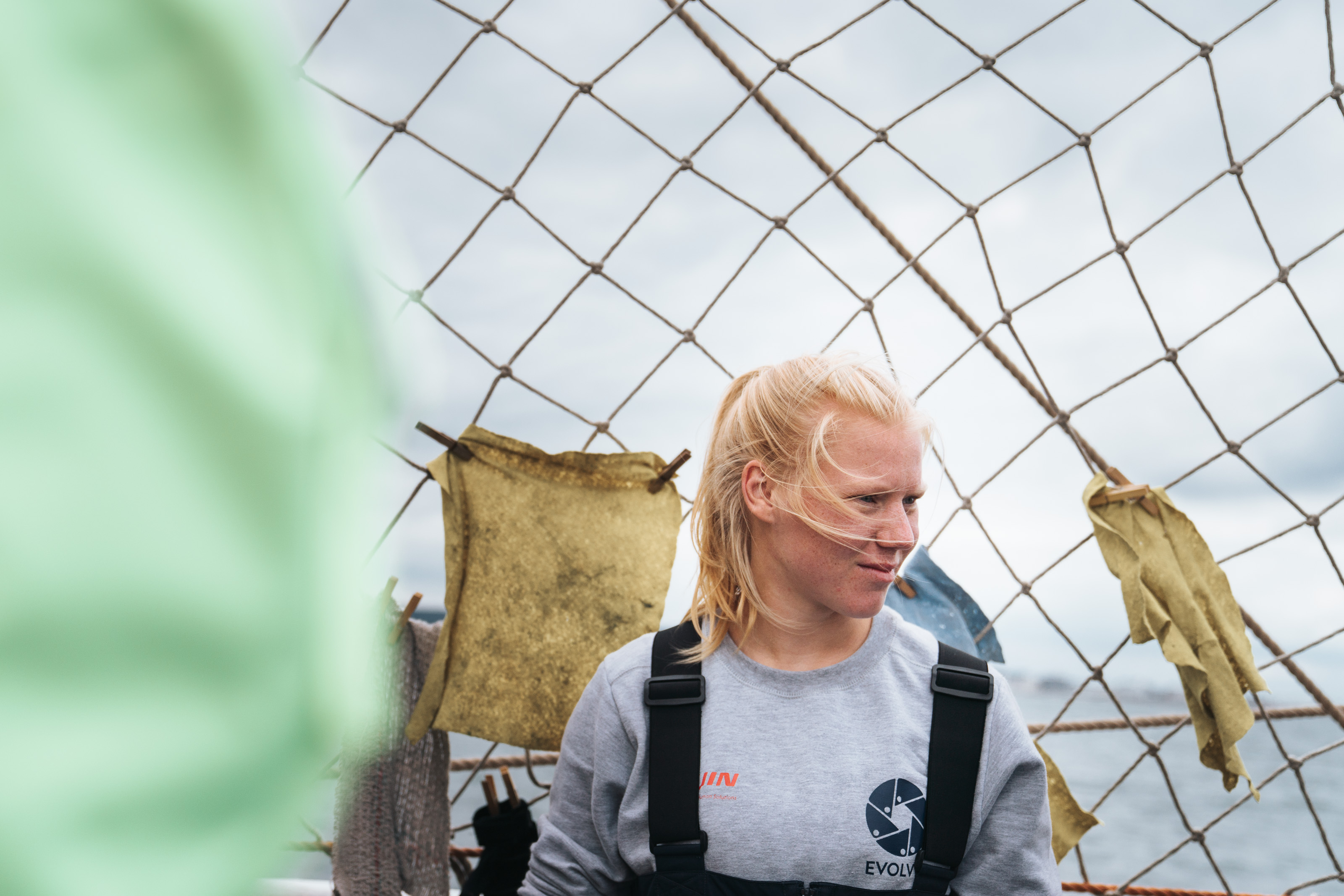 Lidewij 
Day 7 – Isle of Wight
31/08/2018, Yarmouth England
50º42.7'N  / 01º29.5'W
The first week has been completed. It was a week with exciting new experiences, like seasickness, sailtraining and the start of working on the project for Teijin.
(sorry, English subtitles coming soon)
Day 6 – Broke a record


 
30/08/2018, Northsea
50º32.7'N  / 01º19.9'W

Starting to get the hang of steering, which is fun. I still suspect that the lights on the horizon were moving too… Shift is almost over and we're cruisin just south of the Isle of Wight. I'm happy to report we broke speed record 11,5 knots! And I'm sad to report we had to take down the royal and top gallant because otherwise we'd arrive too early… Man this trip is an emotional rollercoaster!
Jorren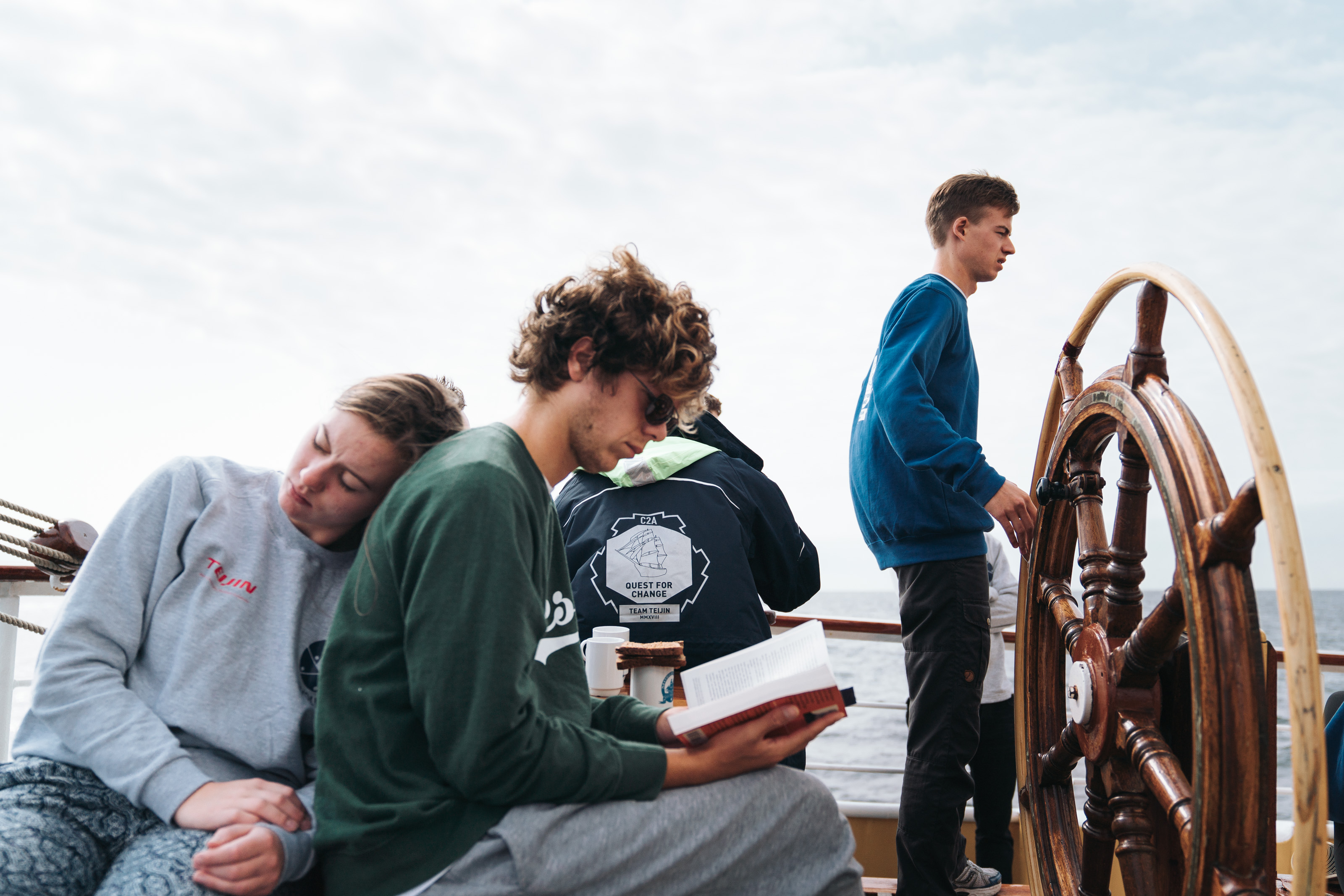 Jorren reading and relaxing after his night shift with Edith
Day 4 and 5 - SAIL out meets seasickness
29/08/2018
50º36.1'N  / 3º06.2'E
The SAIL out was great! Thank you for that. You can find photo's on our Facebook. Unfortunately, the spectacle quickly made way for seasickness. We now sail along the South coast of England. Everyone is back on their feet. We will place a video soon from the first days at sea.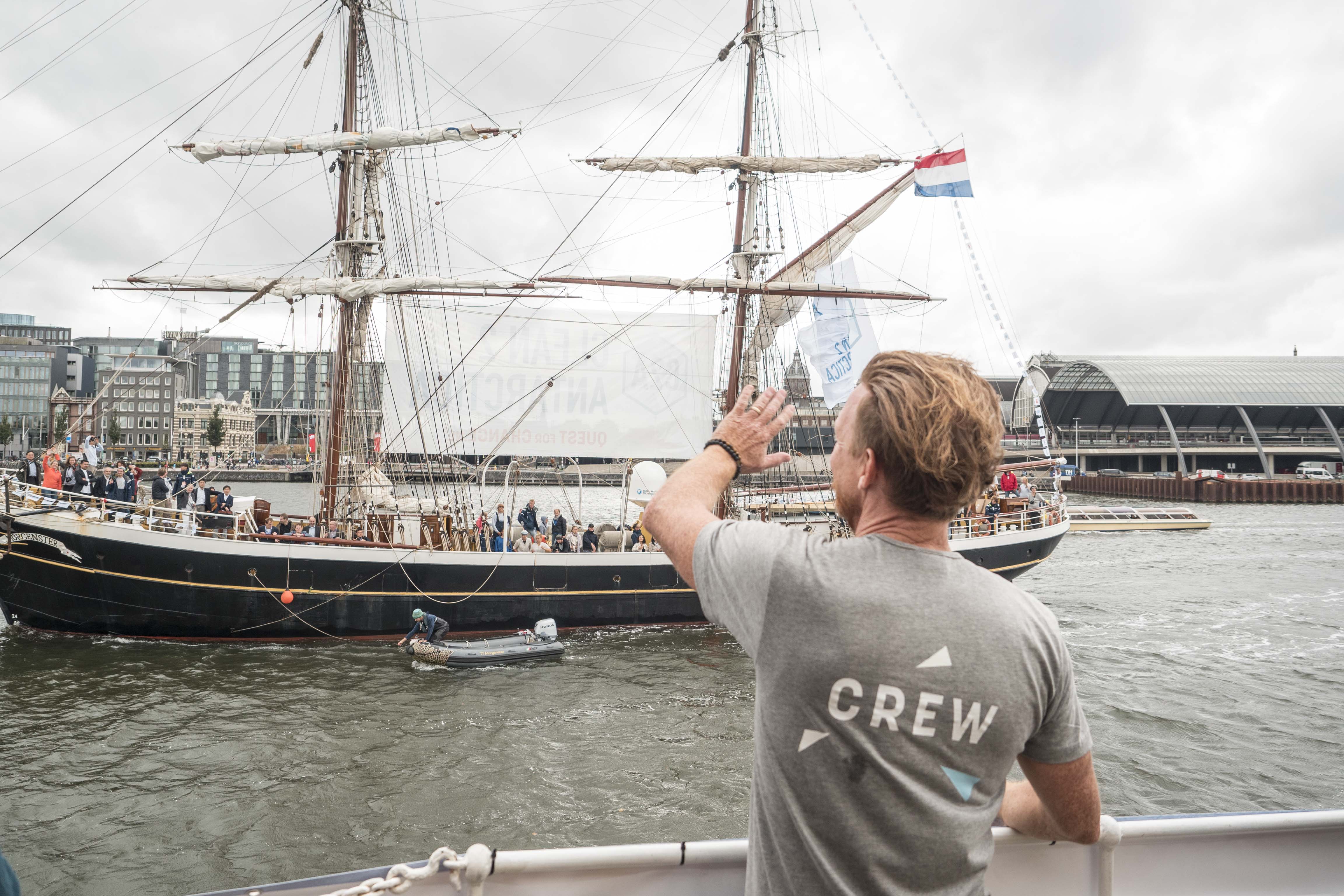 Day 2 and 3 - Uitmarkt Amsterdam
26/08/2018
52º22.2'N / 04º75.4'E
Open ship at the Scheepvaartsmuseum during the Uitmarkt.
Video gemaakt door: www.thegreengeekette.fr (student Quest for Change)
Day 1 - Sail training
24/08/2018, Den Helder
52º95'.5'N  / 04º76.1'E
The 21 students are on board. We sailed from Den Helder to Amsterdam for the sailing training. With a lot of stormy weather on the IJsselmeer.
Video gemaakt door: www.thegreengeekette.fr (student Quest for Change)
Meet the crew of leg 1 Quest for Change
Share this page