08 October 2018
'Mayday, Mayday' How will the Solar Voyager communicate?
In less than 50 days Edwin and Liesbeth will be in Antarctica. They're not only going to drive on the ice but also assist with research about cosmic rays and the underlying ice structure. But how will they communicate?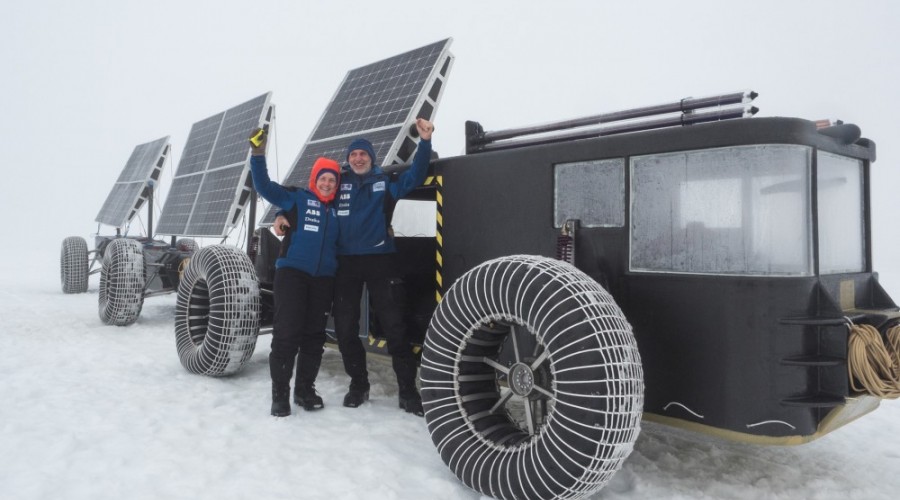 In Antarctica you can't just use your mobile phone and dial home or send an email. Yet, it's important that Edwin and Liesbeth can be followed by the Mission Control Center to keep track of any potential problems. One way they will be in touch is through the world's first Low Power Global Area Network (LPGAN), launched by the Dutch company Hiber.
Measuring means knowing
Hiber's satellite registers the GPS-location of the Solar Voyager. Edwin and Liesbeth can also send a SOS signal if they get into serious trouble. We hope that will never happen. Important is that on a daily basis data is collected about the energy use of melting snow, so they always have water around for drinking and eating.
If the test in Antarctica is successful, Hiber can gather data in the world's most remote areas with very low energy usage and therefore a low price. This way Hiber helps the fight against climate change, growing crops more efficiently and tracking cattle.
Rocket
Within this month Hiber's first satellite will be set free in space with the launch of a rocket. Of course we'll be there, because how cool is that!? More about this rocket launch and the research you will soon read in our newsletter (sign up below).
About Hiber
Hiber is start-up from Amsterdam, founded in 2016. Only two years old, the company is already at the dawn of launching their own satellite network. This network, named Low Power Global Area Network (LPGAN), will make it possible to use very little energy to stay connected to the internet. In this way, Hiber is the first to enable everyone, no matter where on the globe, to make use of affordable and simple 'Internet of Things' connectivity. 
Support Zero Waste!
With your help we can inspire and activate people and companies to see plastic not as waste, but as valuable resource.