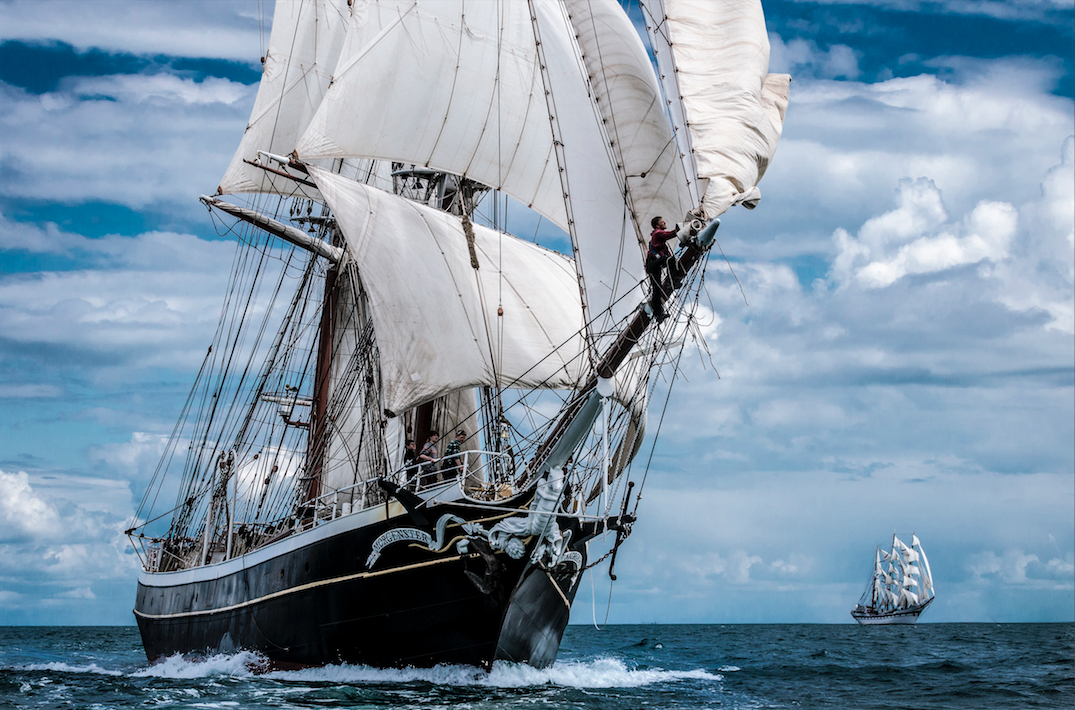 We're looking for 120 young minds who want to make an impact. Onboard Tall Ship Morgenster you will sail across the Atlantic Ocean and help to make business more sustainable.
The first application round is closed.  
Sign up for our newsletter to find out when the next sign up opens.
Make an

Impact
Six industries are asking your help with a sustainability challenge they haven't been able to tackle. We think you - the next generation - have the creativity we need. This is not about vague ideas: The companies are required to implement your solution!
Empower

Yourself
We want to make you the sustainable leaders of tomorrow. You will be trained by the WWF and others to become (an even bigger) sustainability expert. You will learn about business, sustainability, and yourself. And who knows what can happen when you're in touch with businesses that want to make a change?
Sail the Atlantic Ocean
Why brainstorm in the office when you can do it with the Atlantic wind blowing in your hair? We hate clichés, but we think it's fair to say this will be a once-in-a-lifetime-experience. Four weeks onboard a Tall Ship, with a team of 20, solving problems and having fun.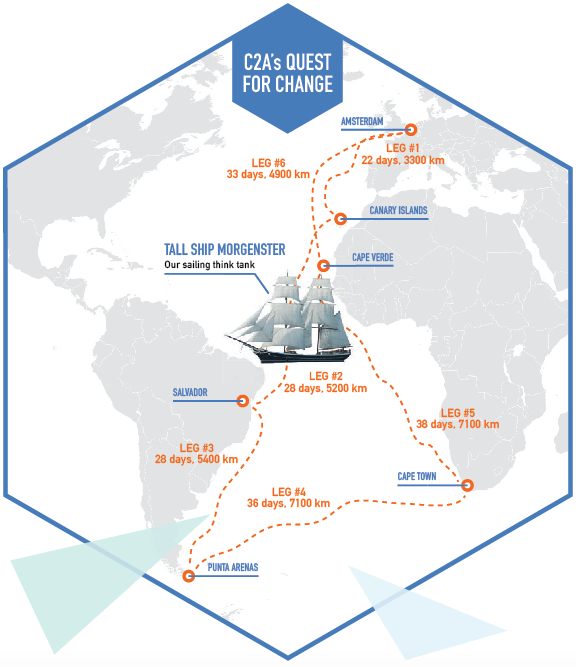 The quest is divided into six legs (stages), to the end of the world and back. Each leg lasts about 4-5 weeks and features a specific industry. On each leg 20 young adults will sail the ship and solve the business case.
Why are we doing this?
 

We're heading for the South Pole with a vehicle made of plastic waste, powered by the sun. It's an adventure for a cleaner world on the coldest continent on earth. We want to inspire people to take action and not wait for big solutions. But we invite companies to join the adventure, because they should be a force for change, too. And we think you're the ones to help them. That's why we are organizing this Quest for Change.
Read more
What we're looking for in you:
- A desire to create an impact for sustainability
- Creative brains from all fields and levels of study (or work)
- Hungry for some adventure
Based on motivation, we will invite you to a selection weekend. This weekend will be a fun event in the spirit of the quest, where we will make a final selection. Before the journey, you will be trained and visit the companies to understand their issue. Throughout the journey, a coach will guide your group.
As part of this experience, we also need your help with spreading the mission. No worries, you will be guided and it's going to be a lot of fun. You don't need to be a salesman, the only thing that counts is a heart at the right place.
If you're around 18-28 years old and you speak English, you can apply! Attention: You will have to be in the Netherlands during the selection weekend (May 11/12th or September 22/23rd) and various trainings. Before departure, there will be two personal trainings for your development, a sustainability training, and four meetings with the companies. 

 
FAQs
Project related
What level of English do I need?
Good enough to discuss solutions to sustainability. Basically, if you're able to read all of this you're fine.
Is my study is relevant for business/sustainability?
Yes! We don't care what your background is. We need insights from every angle and perspective.
Who owns the ideas?
The project is for the business, so the ideas you develop for that business are theirs. But if you have other creative solutions they're yours, and we'd love to support you with those ideas.
What if I don't know my class schedule yet?
Just sign up ;-) Most of the meetings are at the end of the day/evening.
Can I use this as internship?
Yes, we have checked with schools and they said it's possible. So it's possible, but you have to coordinate this with your school. Make it happen!
Can I extend my stay at the harbor?
Great idea to extend your adventure. But you're working as a team and you need to present the ideas to the business, so unfortunately that's not possible.
What does it cost?
Travel expenses within the Netherlands are yours. The rest is covered by the companies who participate.
Do I need to be Dutch?
No, you only need to come to Amsterdam for some preparation days.
What are the dates?
 Leg 1 – Amsterdam to Canary Islands, 27.08.18 – 20.09.18
 Leg 2 – Canary Islands to Salvador, 20.09.18 – 23.10.18
 Leg 3 – Salvador to Punta Arenas, 23.10.18 – 21.11.18
 Leg 4 – Punta Arenas to Capetown, 21.11.18 – 31.12.19
 Leg 5 – Capetown to Cape Verde, 31.12.19 – 11.02.19
 Leg 6 – Cape Verde to Amsterdam, 11.02.19 – 15.03.19
Sail related
What physical condition do I need to be in?
Sailing a Tall Ship is a team effort, you don't need to practice before departure. 'Normal' physical fitness is enough.
What if I'm seasick?
We have worked with a lot of young people and our experience is that everyone overcomes a feeling of seasickness. So no worries!
I've never sailed before, what now?
No problem! We will teach you the basics, but of course we also have an experienced crew to ensure a safe journey.
Rediscover your world
Share this page